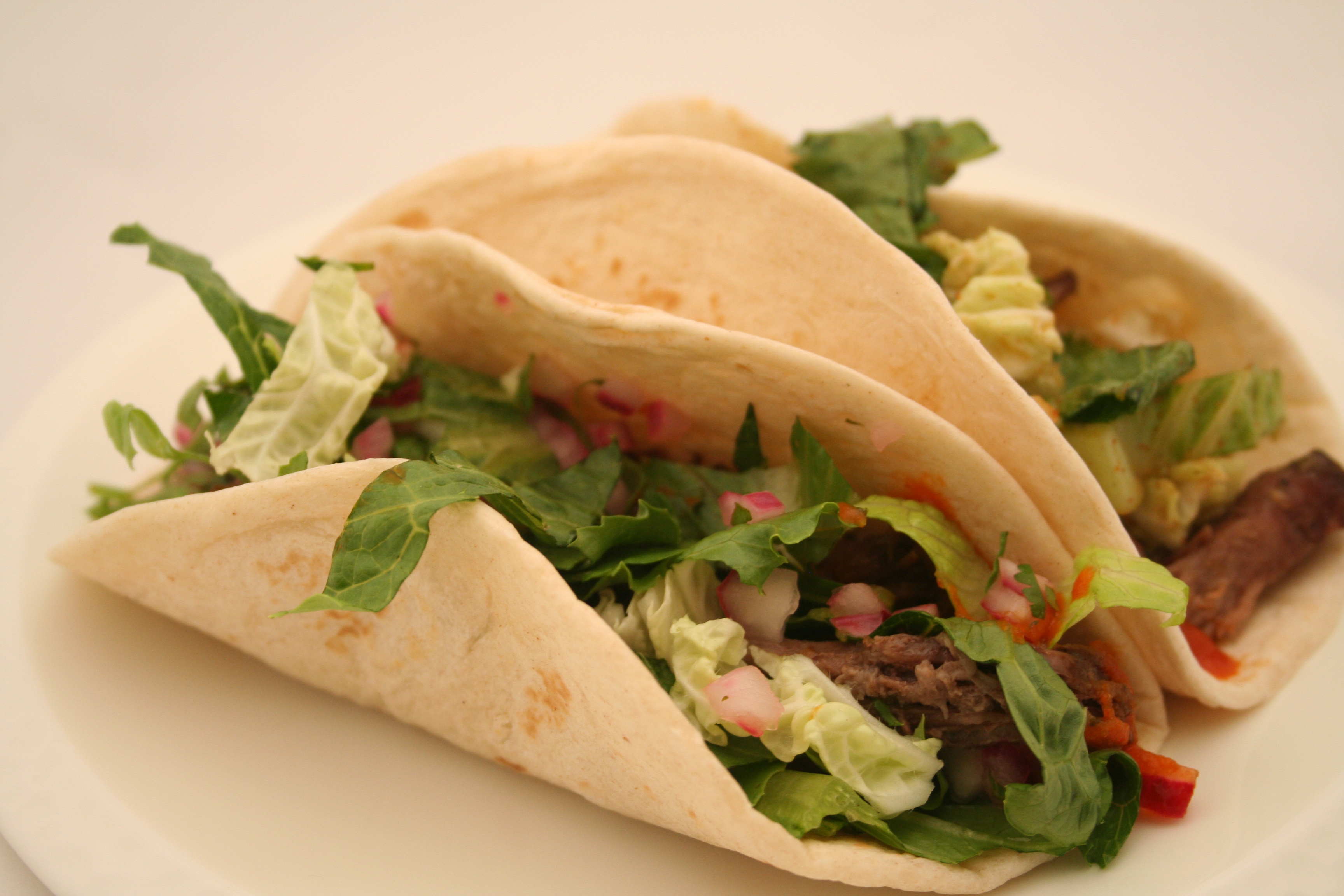 If that isn't a mouthful, Korean BBQ Beef Short Rib tacos, I am not sure what is but figuratively and literally there were a mouthful and they were something special.  This was not an original creation but rather a stab at the KogiBBQ shortrib beef tacos they sell our of food trucks in LA.  I was lucky enough to get to sample one of these this past spring on a trip out there and it left such an impression I thought I would like to recreate it at home.  Well I failed to recreate it but I still came up with something amazing that had a flavor and texture set unlike anything I have cooked before.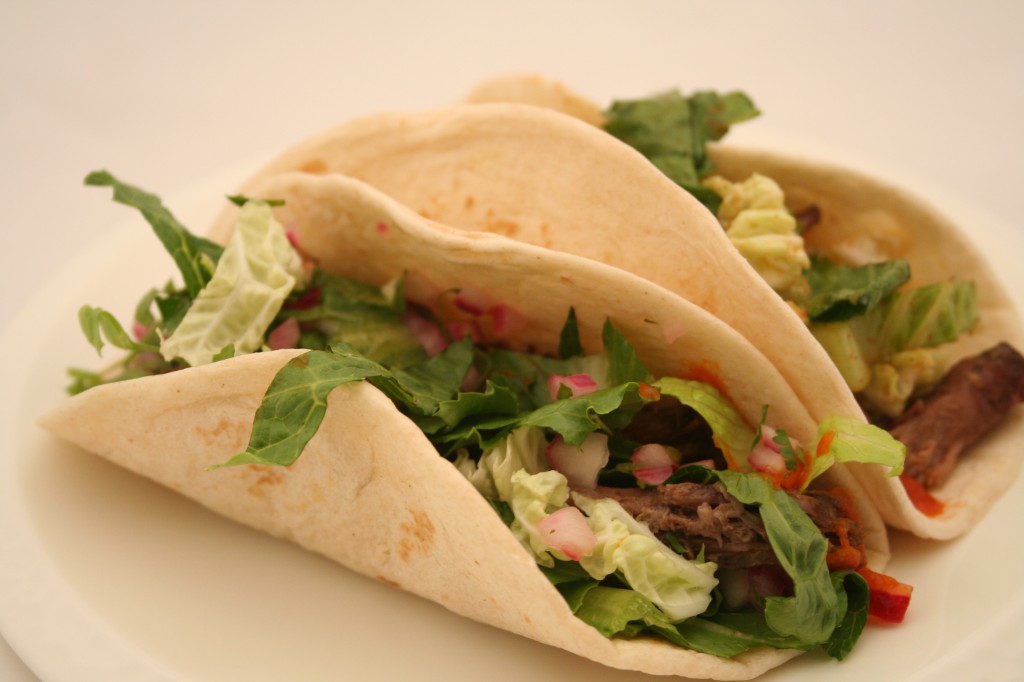 We started out with the beef shortribs this was perhaps the easiest part.  It was providential almost, I recently began to subscribe to Bon Appetit magazine and the July 2011 edition had a recipe for a Korean BBQ Marinade.  The recipe was good, actually it was really good we tried it a couple of weeks ago on some shortribs just for fun and I think I would be evicted by my wife if I don't make it again.  It was really good.  We did let our shortribs soak in this marinade for about 16 hours, and the flavor was good, it permeated all the way through but was not too strong.
Next came the condiments, I started by tossing some shredded romaine and cabbage with a Korean Soy Vinaigrette, arriving what was affectionately known as dirty lettuce.  This was really easy to make and I made the vinaigrette the morning of so it had some time to meld and mature.  You can find the recipe below.
Ingredients
2 c shredded napa cabbage
4 c shredded romaine lettuce
1/4 c soy sauce
1 tsp grated ginger
1 clove garlic (finely minced)
2 tsp rice vinegar
3 tsp chili powder
1/2 tsp cayenne
1/2 tsp ancho chile powder
generous squeeze of lime juice
dash of sesame oil
a sprinkling of toasted sesame seeds
Instructions
Combine all but lettuce and cabbage in a bowl and let sit refrigerated at least 8 hours.  Just prior to serving shred cabbage and romaine and toss with vinaigrette.  Only toss as much as you need otherwise it will get soggy.
The last condiment that needed assembly was the Cilantro-onion-lime relish and it was something crazy it was easy to assemble but added such depth to the overall combination of flavors it would be tragic to leave it off.  You can find its recipe below.
Ingredients
1/2 red onion minced
1 tsp rice vinegar
1/2 tsp white wine vinegar
1 tbsp chopped cilantro
juice of 1 lime
pinch of salt
Instructions
Mince onion and combine in a bowl with vinegars, allow to set for 5 minutes.  After five minutes drain, rinse and allow onion to thoroughly drain.  Add remaining ingredients to a bowl with onion, stir to combine.
There was one final condiment we topped these babies with to give them a bit more of a kick, a little bit of a punch in the side of the face, it was a little Sriracha Hot Chili Sauce, you know the stuff in the clear bottle with the green top that is absolutely incredible.
So once the short ribs were grilled, de-boned and shredded, it was assembly time.  We heated up a skillet with little heat in it and warmed our tortillas in there the then piled on the meat and condiments and enjoyed.  These are pretty good, they are worth the effort and are on the menu again soon.
If I pulled one learning from this it would be that corn tortillas may be a bit better than the flour ones for this.  So next time we know.