Or a brisket sandwich at least.  Like so many quests in the kitchen and life I began my summer with a goal to smoke a brisket, I am not going to lie I have never smoked a brisket before and I am not had all that much smoked brisket.  But with a bit of patience, alot of hickory and mesquite wood and even more patience, the brisket got done and beyond that it was phenomenal.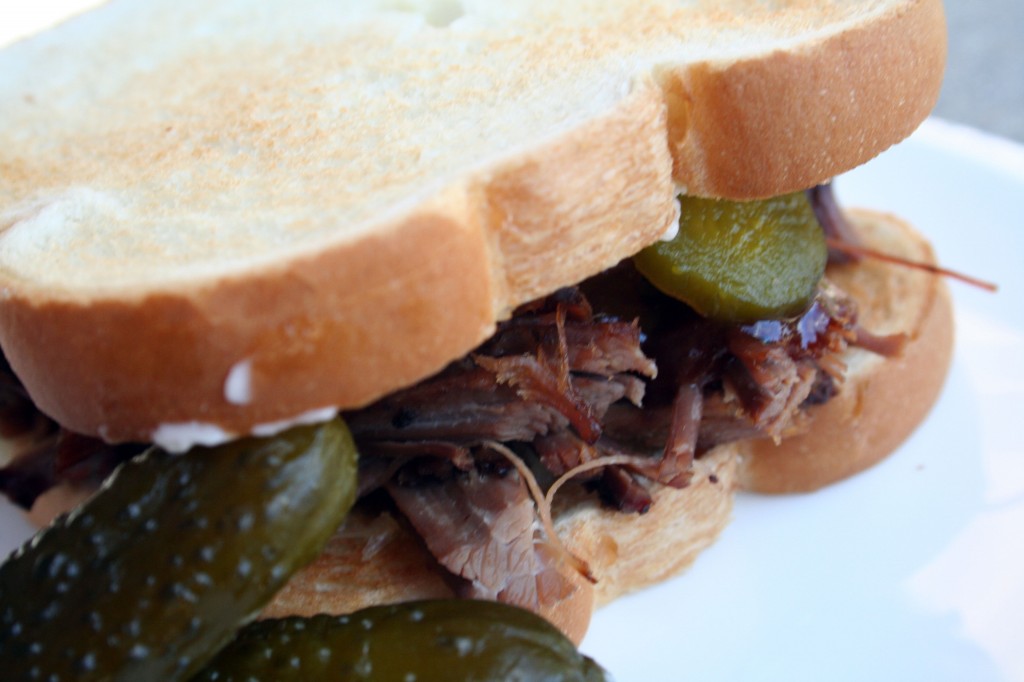 The brisket was good on its own and even better between a couple of slices of bread.  It was juicy and flavor filled and fall apart tender.  But enough bragging here is how it came about.
Tuesday I headed over to a local butcher after work and picked up a 9lb chunk of brisket with a healthy fat cap.  After a little waffling I decided to the only cook half of the brisket and freeze the other half until I was sure I had my brisket technique down, I ended up cooking only the flat part of the brisket.  I then proceeded to trim the fat cap down to about a quarter inch over the entire brisket and scored the fat cap in about a 1 inch grid.
Then it was rub time, I had planned on making my own rub but decided to save that until later, so check back.  I used a Cookshack Brisket Rub I picked up on my last trip to Cabelas, it was MSG free and looked tasty (can't really smell it in the store) and  I was actually very happy with the rub and will likely use it again.  I digress, I rubbed the meat with a healthy layer of plain boring yellow mustard and then rubbed the brisket with the brisket rub.  From there it was into a sealed container and into the fridge for a night of rest.
Early the next morning before the sun had even decided to rise, I was out tooling around in the garage getting the smoker fired up, water pan filled and the smoker pre-heated to that prime BBQ temperature of 225°F.  Once the smoker was ready to go I added a healthy dose of hickory and mesquite and threw the brisket on the top rack, fat cap up and gave it one last dusting of the rub.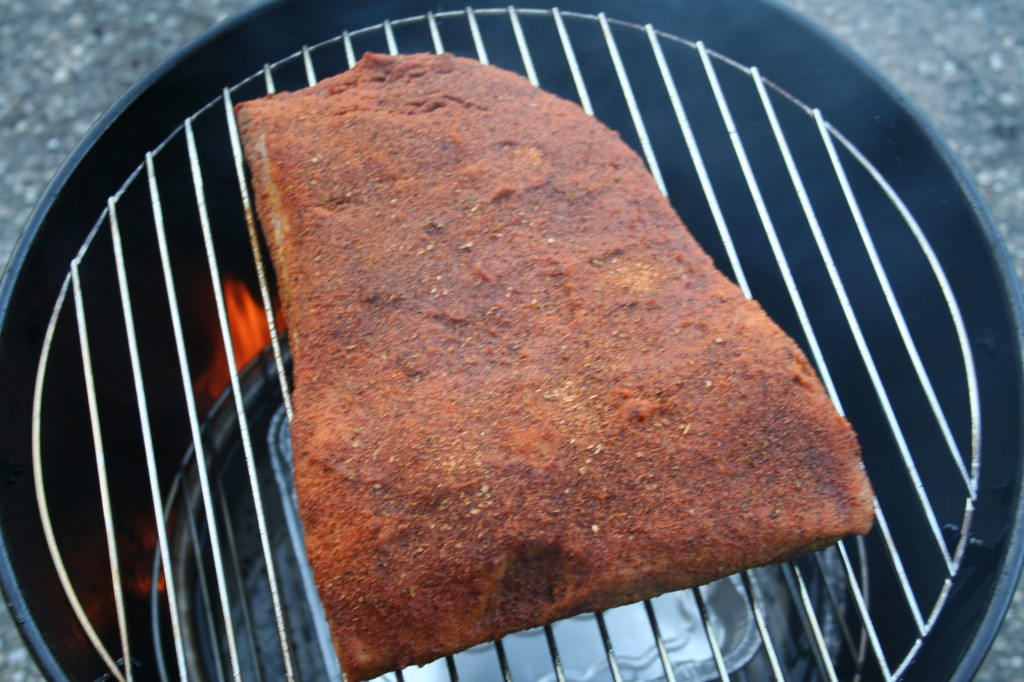 Then it was time for the patience, checking in occasionally to make sure it was still smoking and the temperature was still good. One hour, two, three, four and then it was time to spritz with apple juice every hour on the hour.  At hour four I shoved my remove electric thermometer into the middle of the brisket to keep track of the progress and got back to waiting.  Around hour five is when it happened at the internal temperature of 151°F, the dreaded stall and it sat there for five hours before it budged even a single degree, it was frustrating but that is what the patience is for.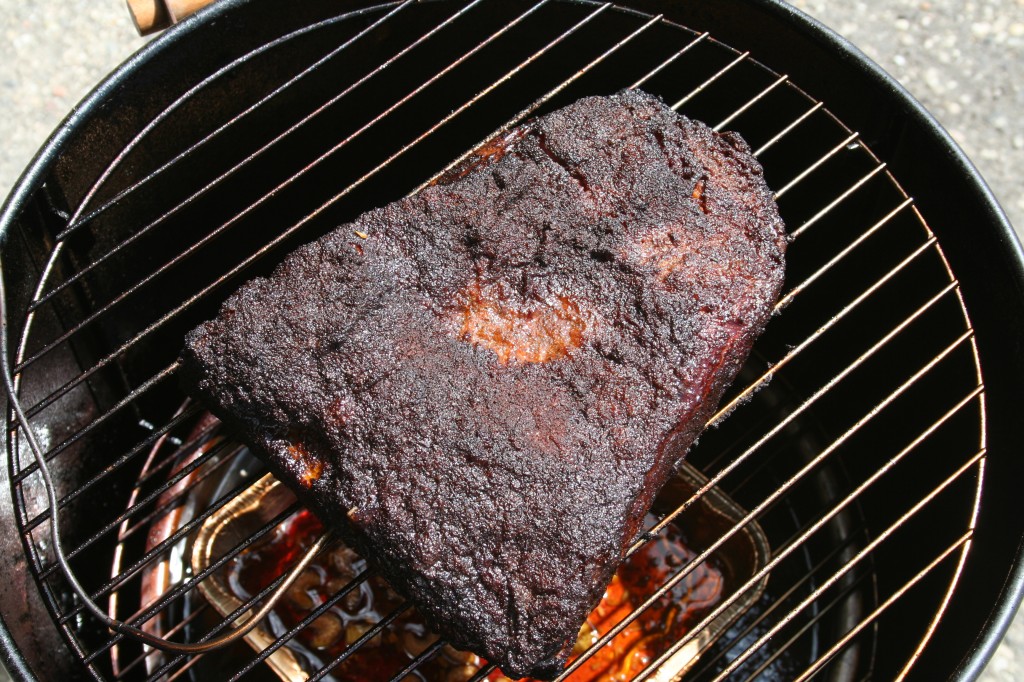 Finally after 14 hours on the smoker the brisket was done, it reached an internal temperature of 200°F and it was pulled and allowed to rest for about 2 hours.  Then it was time to slice and pull, this was magical.  Upon slicing into the brisket I picked up one half only to have it fall apart in my hands, pulling was never more easy.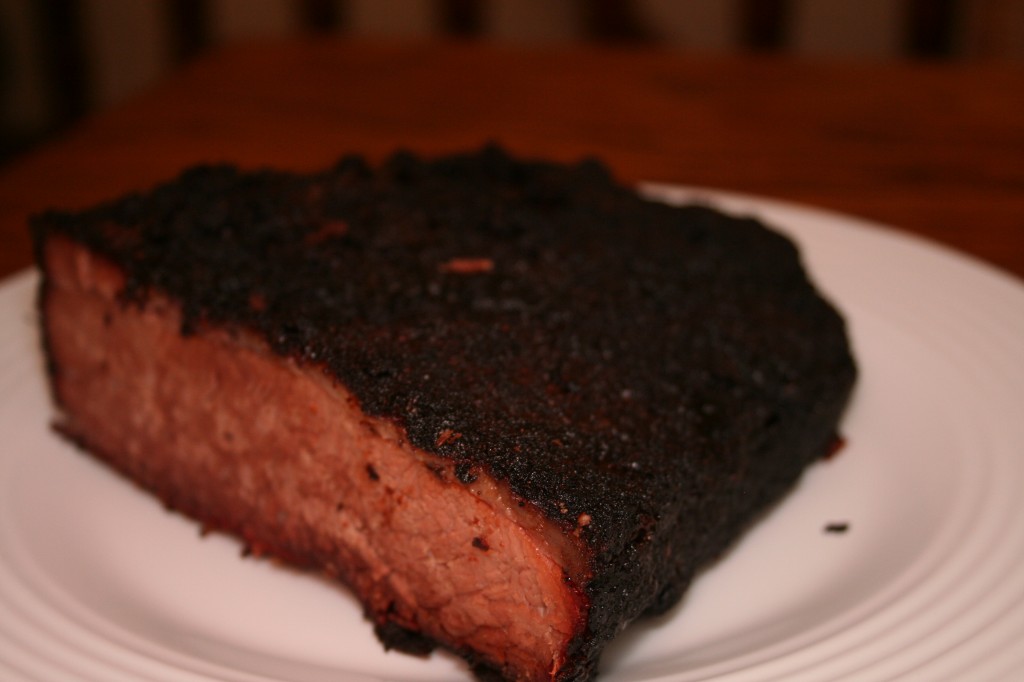 Then it was time to enjoy, I ate way more than I should have last night and we had a lunch time feast at lunch at work today and the verdict was unanimous, it was excellent.  Can't wait to smoke another!