I am sure this will not be the last episode of Adventures in Jerky but is was certainly a successful one and one with lessons to be learned.  Since the jerky turned out so well last time I made it and all but a hurricane was forecast here today; it seemed like a great day to make jerky. I could turn on the electric smoker, crack the garage door and the window, and let it works its' magic.
It all started last night looking for what type of jerky to make, I wanted to make sure pepper jerky but I am not sure exactly how I want to go about that yet.  So pepper jerky is back burner-ed, although I think it I have it figured out.   Anyways back to today's jerky.  Today's jerky consisted of Teriyaki Sesame jerky and a BBQ jerky.  Both of them came out quite alright.
Once I had figured out what kind of jerky I was making.  It was off to the store to scope out some meat.  This is where I made a mistake, I bought the cheapest bottom round roast I could find.  Big mistake, after I trimmed a 1/4 pound of fat off the roast, you really don't want any fat in your jerky it will spoil much quicker, I sliced it into fairly uniform slices across the grain about a 1/4 inch thick with a couple of thinner slices that would be done well before the rest for some early on sampling.
The one on the left is Teriyaki Sesame and the one on the right is BBQ.
Once the meat was sliced up I divided it into two equal parts (about a pound a piece) and put them into two separate zip-lock bags.  Then I whipped up the respective marinades and poured them over the meat in the bags.  Then I squeezed the air out of the bags, worked the marinade into every crevice and void in the bag and let them marinate in the fridge over night.
This morning I pulled the jerky out of the bags and placed the Teriyaki Sesame on one rack and the BBQ on another.
Then I fired up my electric smoker to 155°F, which is quite easy to maintain with my PID controller for the smoker, I used only a couple chunks of hickory wood and a handful of mesquite chips for the entire 6 hour smoke.  I cheated a bit to get good constant smoke, I got a piece of charcoal going and plopped it in my smoker box for my grill and put that in the bottom of the electric smoker and added another piece of charcoal and some wood as needed to keep the smoke going.  This works well and doesn't impact the temperature significantly.  This would be perfect for smoking some cheese….wink wink, nudge nudge.
After about 5 hours the Teriyaki Sesame jerky from the top rack was done, it was a little drier than I was aiming for but it got left unattended for a while.  I removed it and because I had covered the empty water pan with foil to keep the drippings off the element, the BBQ jerky closest to the pan needed a bit more time so I moved the rack up to the top to give it some better exposure.  About an hour later the BBQ jerky was done as well.  As I removed both kinds of jerky from the smoker I placed them on a cooling rack inside and let them come down to room temperature before putting them in a container and into the fridge.  Realistically if I was going to be keeping the jerky any longer than a day or two I would let it sit in the fridge for a while in the container with no lid on just to make sure all of the moisture that can be out is out.  But the way it gets eaten around here it will be gone tomorrow.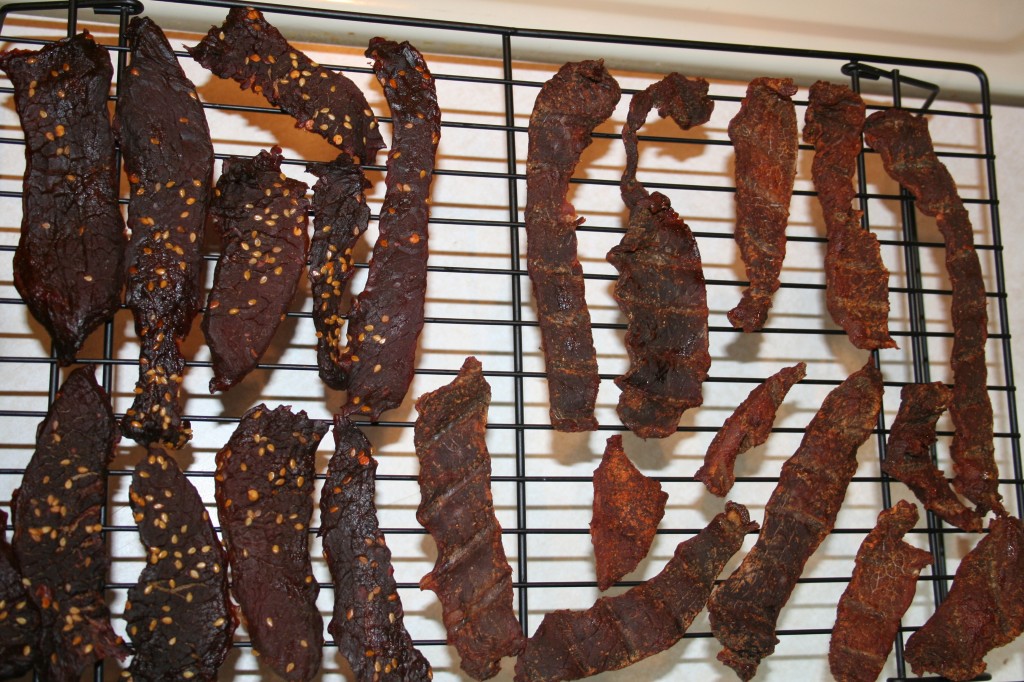 Again Teriyaki Sesame on the left and BBQ on the right.
So how was it?  Both types of jerky had great flavor the Teriyaki Sesame was great, it tasted like I expected.  The BBQ however, I had little hope for but it surprised me, it has a great flavor that seems to be maturing as the jerky sits and it is growing on me quickly.  So at this point both of them are keepers in my book, they might get some modifications down the road but the are good as the are and can only get better.
Teriyaki Sesame Jerky
Ingredients
1 lb thinly (1/4″) sliced beef or other red meat
1 c teriyaki sauce (recipe)
1 tsp sesame seeds + extra
Instructions
Combine teriyaki sauce (if making your own allow to cool) and 1 tsp sesame seeds and pour over thinly sliced meat in a ziplock bag.  Purge air, seal and refrigerate and allow to marinate for at least 8-12 hours.  Then prepare as outlined above.
BBQ Jerky
Ingredients
1 lb thinly (1/4″) sliced beef or other red meat
1/3 c red wine vinegar
1/3 c ketchup
1 tsp salt
3 tbsp brown sugar
1/4 tsp ground black pepper
1/8 tsp cayenne pepper
1 tsp onion powder
1/2 tsp garlic powder
1 tsp dry mustard
bbq rub (such as BBQ 3000 or Bad Byron's Butt Rub)
Instructions
Combine all but bbq rub and meat in a bowl, mix well.  Pour over thinly sliced meat in a zip lock bag.  Purge air, seal and allow to marinate in the refrigerator for at 8-12 hours.  Remove meat from marinade, place on smoker rack and lightly sprinkle with bbq rub.  Prepare as outlined above.
So far jerky has been a hit, although today's was a little tougher than I like, I blame the meat.  It was a bad choice and now I have to live with it, although it is not half bad.  Next up, pepper jerky!