I like meatballs.  They are simple but they can be so tasty.  I was kind disappointed when the Saucy Balls guy was eliminated from America's Next Great Restaurant.  I wanted to try those meatballs.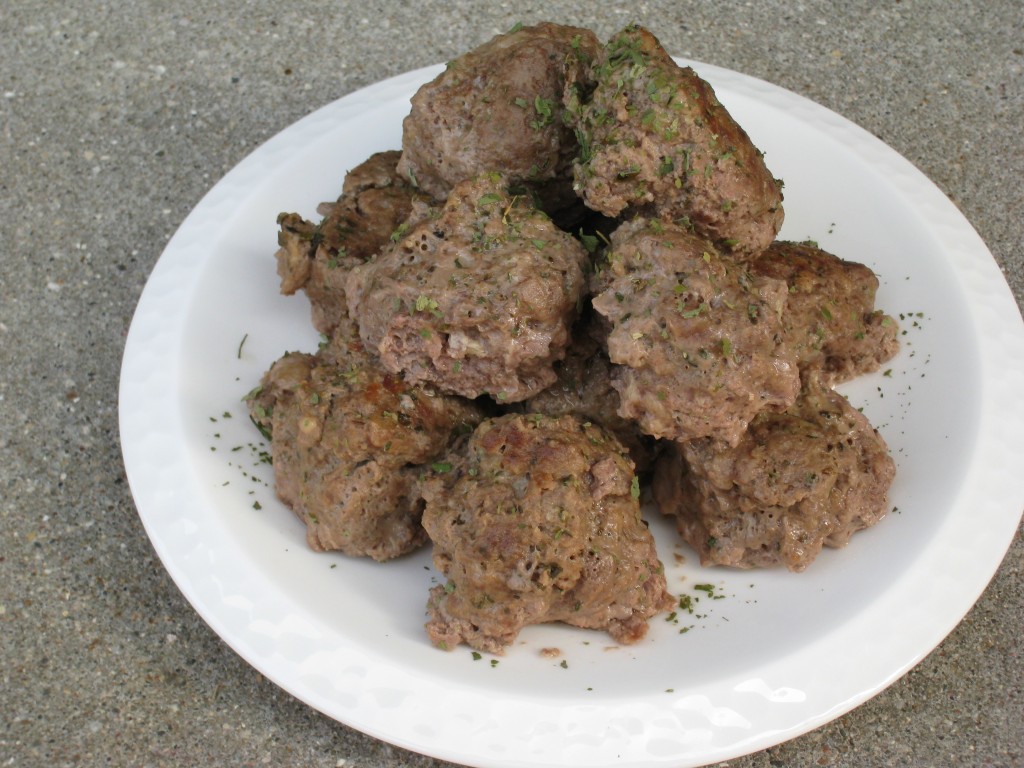 The best thing about meatballs is that there is really no limit to what you can do with them.  You can put them in soup, you can put them in spaghetti, you can just eat them plain; the list goes on.  They are tasty and typically made with beef, which my doctor informs me must be eaten in moderation.  No that I believe him, but I happen to like venison more than beef and it is better for the body than chicken and has more iron than beef.  So for me venison meatballs are a win-win.
Tonight we are having minestrone with venison meatballs, is that allowed?  I don't know but it sounds tasty and hearty so we are going to give it a go.  So in the interest of time I precooked the meatballs this morning.  And thought I would share the recipe here.
Ingredients
1 lbs venison
1/2 c italian bread crumbs
1/4 c grated parmesan (not the canned garbage)
2 tsp dried parsley
1 tsp garlic powder
1/3 c milk
2 eggs
salt and pepper to taste
Instructions
Combine bread crumbs, parmesan, parsley, garlic powder, salt and pepper in dish.  Mix well and set aside.  In a large bowl combine milk and eggs, beat until well mixed.  Squeeze blood from venison and add to milk and egg.  Mix.  Slowly add the dry mixture incorporating evenly into the meat/egg/milk mixture.  Once combined put a skillet on over medium/medium-low heat and coat with a thin layer of olive oil.  Form meatballs to desired size with hand and add to skillet, make sure they do not touch.  Brown meatballs, turning frequently.  A spoon works good here.  Once the meatballs are done you have some options.  If you are making spaghetti add you sauce to the skillet cover and cook until the meatballs are cooked through about a half hour.  I was making soup so I added some beef stock and italian seasoning in place of the sauce.
These freeze well do if you make up a batch and only want to use half save the uncooked meatballs for another time.
Now a cast iron skillet is ideal here in my mind, but I like cast iron it feels more primal to cook in unrefined cookware and it just tastes better.