A while back I came into luck and had received a can of Chipotle Peppers in Adobo Sauce and had been saving it for something special.  Well that time has arrived and like the title says what happened as a result 'ain't yo mamma's corn bread', its a smokey, mildly spicy kick in the pants that will continue to remind you that you ate this delicate piece 30 minutes later.  Now usually I make corn bread with chili to help absorb the bite, not so with this corn bread it may become a staple to stand on its own.
With our company pot luck in mind I decided I might cook a dish up to remember and as we were asked to bring a 'dish to pass' what better dish to pass than some innocent looking corn bread.  So with that you might want the recipe which I scavenged out an old issue of Cooking Light, so here it is.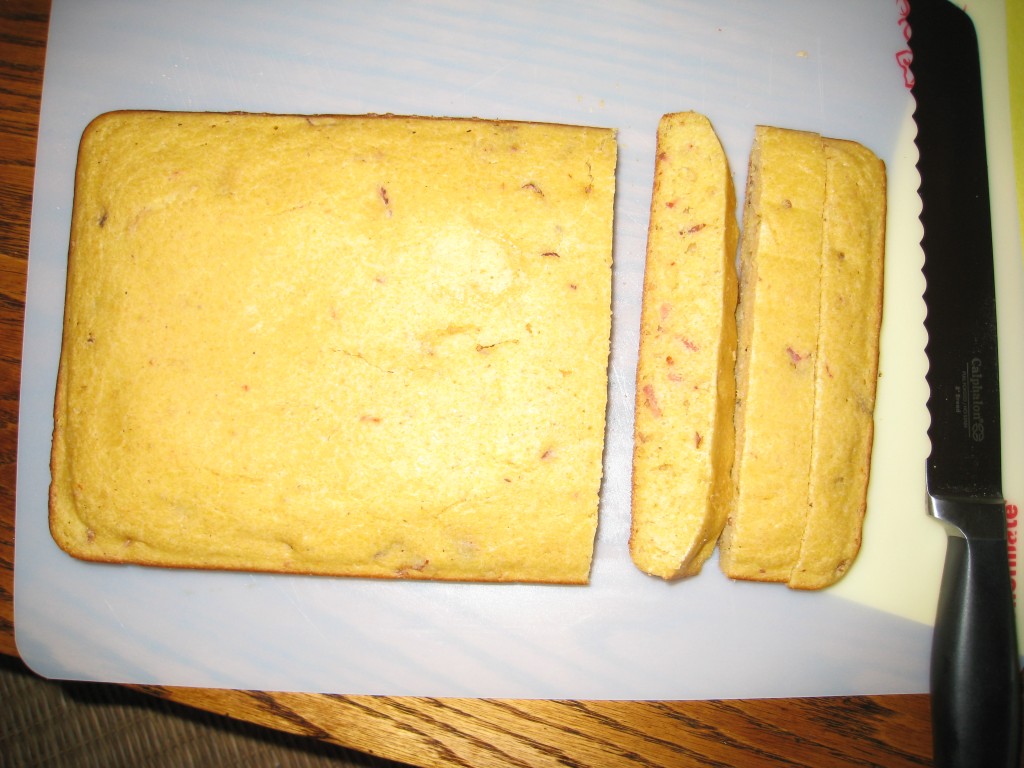 Ingredients
1 c all-purpose flour
3/4 c yellow cornmeal
3 tbsp sugar
1 tsp baking powder
1 tsp salt
1/2 tsp ground cumin
1/4 tsp baking soda
1 1/3 c fat-free buttermilk
2 tbsp melted butter
1 1/2 tbsp chopped canned chipotle chiles in adobo sauce
1 large egg, lightly beaten
3 bacon slices, cooked and crumbled
cooking spray
Instructions
Preheat oven to 425°F
Combine first 7 ingredients in a large bowl, stirring well. Combine buttermilk, butter, chiles, and egg in a medium bowl, stirring with a whisk. Add buttermilk mixture to flour mixture; stir just until moist. Fold in bacon. Pour batter into an 8-inch square baking pan coated with cooking spray.
Bake at 425° for 18 minutes or until a wooden pick inserted in center comes out clean. Cool 10 minutes in pan on a wire rack.
Of note in the haste of preparing this dish I did forget to include the baking powder and it still came out very nicely.
Well tomorrow will be the taste test, will have to see if I come home with any leftovers.
Edit: The cornbread was a hit last week at the potluck, infact it was so good I made another batch today minus the bacon to go with our chipotle and black bean soup, should be a spicey/tasty combo.