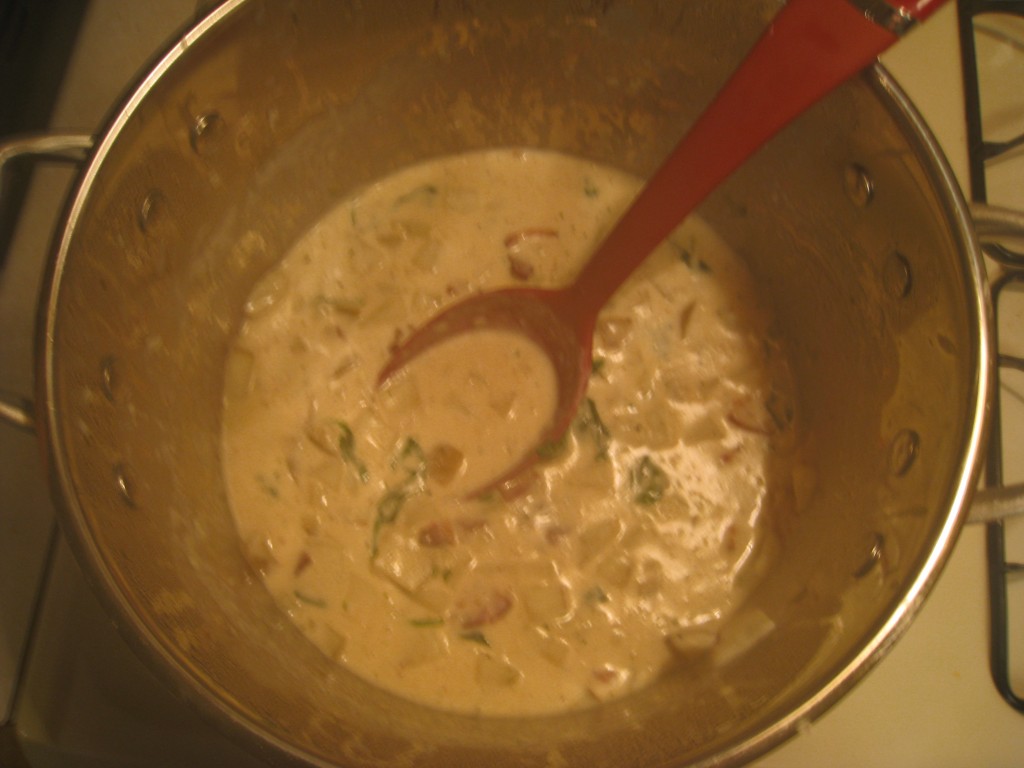 Since we got back from our honeymoon we have been aching to cook some recipes in our new cookbooks we had picked up at the flea market well today was round two for the 'fast healthy food' Reader's Digest cookbook and if our first two recipes from this cookbook are any indication of the rest of the book we might as well throw it out.  First we had made a pasta that was bland and this time we made the potato and bacon chowder which in all fairness one ingredient was substituted, instead of using Canadian 'bacon', I used real bacon, a nice juicy end cut from a slab of bacon prepared by a local butcher.  That said the chowder was an excellent base on which to build a fantastic potato and bacon chowder but the product that was yielded by following the recipe in the book was boring.  In the end it was Old Bay Seasoning and my spice rack to the rescue to save the day and this pot of chowder I sacrificed a prize piece of end bacon for.
So with no more anticipation here is the recipe from the book.
Ingredients
1 Qt Whole Milk
1 tbsp Extra Virgin Olive Oil
2 Ounces Lean smoked Canadian bacon, rind removed and finely chopped (note I substituted real bacon!)
1 large onion finely chopped (slap chop to the rescue here)
2 tbsp all purpose flour
14 oz smooth, thin skinned potatoes, scrubbed and finely diced
1 parsnip, about 5 ounces grated
Freshly grated nutmeg
4 oz baby Spinach leaves
Salt and Fresh ground black pepper
Instructions
1. In a saucepan, over high heat, bring the milk just to a boil. Meanwhile in another large saucepan, heat the oil over medium-high heat.  Add the bacon and onion and cook, stirring frequently, 2 minutes.  Add the flour and stir to combine, then slowly add about one-quarter of the hot milk, stirring and scraping the bottom of the pan to mix in the flour.  When the roux thickens, stir in the remaining hot milk.
2. Add the potatoes and parsnip. Season to taste with salt, pepper and nutmeg.  Bring just to a boil, stirring occasionally.  Adjust the heat so the soup bubbles gently.  Half cover the pan and continue cooking until the vegetables are nearly tender, stirring occasionally, about 10 minutes.
3. Stir in the spinach and continue cooking until the spinach wilts, 1 to 2 minutes. Taste the soup and adjust the seasoning, if necessary.
That is where the recipe in the book ends I would add a step 4 to season until it tastes like more than potatoes and flour.
Serves 4
Let me know what you think, it just seemed bland off the bat to me.