Jerk Pork Ribs with Pineapple Glaze
Well they are finally gone, and sadly so, the last rack of ribs we had in the freezer was dinner tonight.  But not without some trying something new first.  In the past I have been a fan of jerk chicken, and have made some completely from scratch…more about that later.  I have also used some store bought 'jerk' rubs in the past and they are alright but wanted to go out and try something new.  So that is what I did, I found a jerk rub and complimenting glaze I liked and tweaked it a little and it was a bit spicy, so if you are not necessarily for spice, you might want to back it off on the pepper a little.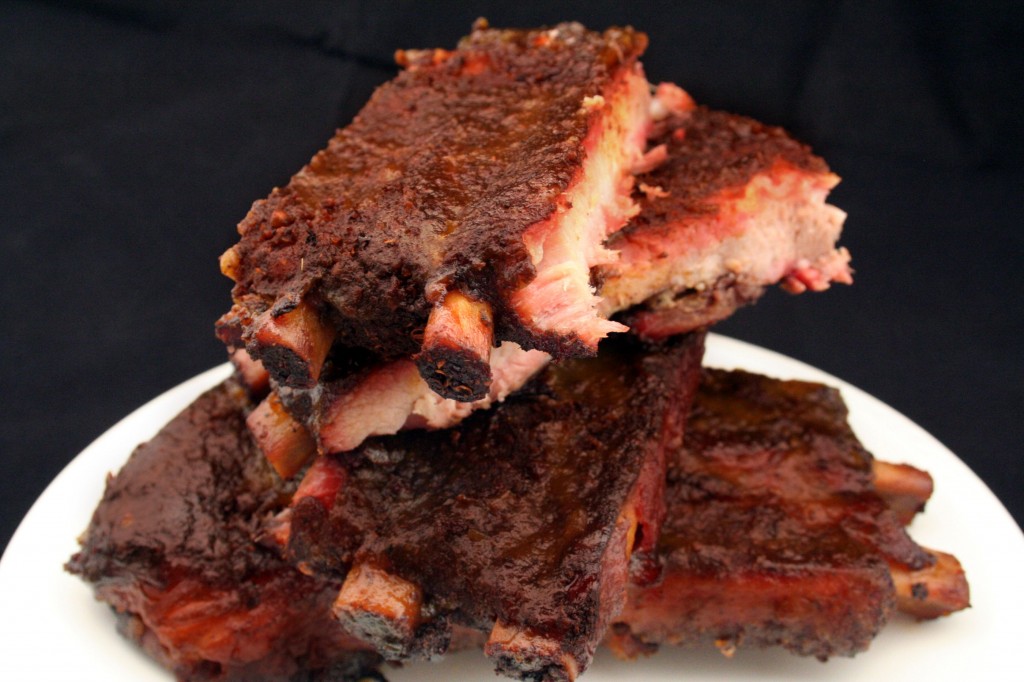 The little strange yellow color in the picture is the pineapple glaze that didn't get absorbed, its tasty even if it does look a little strange.  Using the recipe for the rub below, I rubbed the ribs and sealed them in plastic wrap in the fridge over night.  This morning I took them out and let them set out for about an hour before I fired up the smoker.  I then smoked the ribs using the 3-2-1 method using pecan wood.  During the final hour I began brushing the glaze onto the ribs and did so three times, it could have really used one or two glazings.
When it was all said and done I let them rest covered with foil and a towel for about a half hour then it was eating time.  They were sweet and spicy and had a nice jerk flavor, not quite authentic but still very good.  We will be making these again.
Jerk Rib Rub
Ingredients
3 tbsp dark brown sugar
2 tbsp kosher salt
1 tbsp ground black pepper
2 tbsp ground coriander
2 tsp garlic powder
2 tsp onion powder
2 tsp dried thyme
2 tsp ground allspice
1 tsp ground cinnamon
2 tsp cayenne pepper (remember it was spicy)
Instructions
Combine all until mixed uniformly.  Rub into meat.
Pineapple Glaze
Ingredients
2 c pineapple juice
2 tbsp cider vinegar
1 tbsp red wine vinegar
3 tbsp dark brown sugar
3 tbsp butter
1/2 tsp ground black pepper
Instructions
Combine all ingredients in a sauce pan.  Heat to a boil and cook, stirring occasionally, until mixture is reduced to about half.
Like I said they were tasty, I am glad I have leftovers for tomorrow.  They should make a fine lunch.