BBQ Sauce from Scratch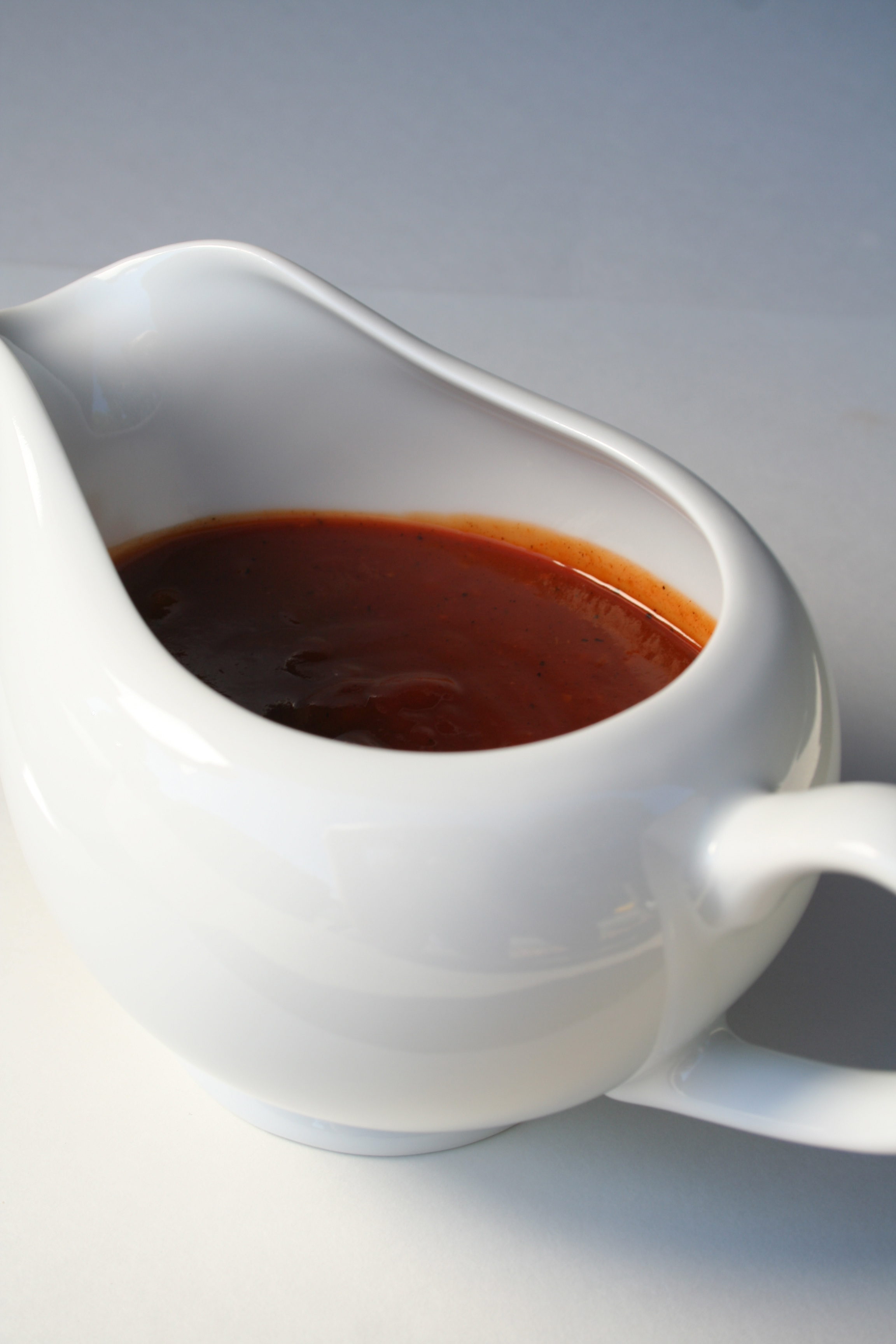 Good BBQ sauce will not rescue a poorly cooked (bad) piece of meat, sure it might add a little moisture but it will still be a bad piece of meat.  With that said, good BBQ sauce will complement a well cooked piece of meat nicely and even make a bad piece of meat desirable, if that sauce is just that good.  Face it no one likes to be seen eating BBQ sauce off a spoon, but this sauce is just that good, you could eat it off a spoon with no meat and other than the looking foolish you would be content.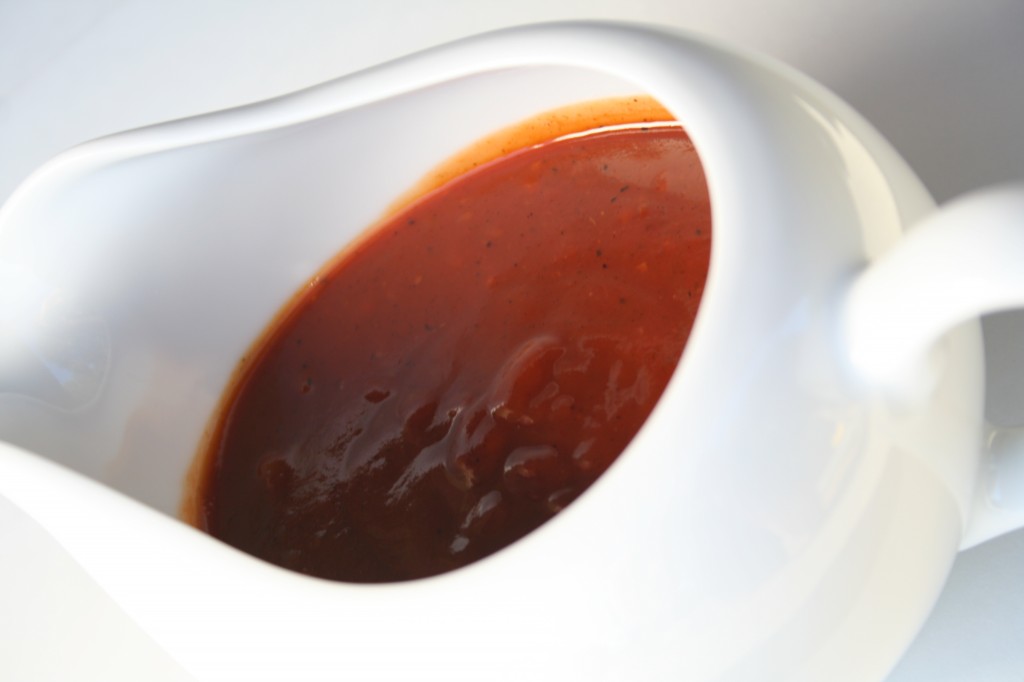 Unlike simply squirting BBQ Sauce out of a bottle this sauce took some work.  It started its journey on the stove in the house, but only long enough to thoroughly mix all the ingredients.  From there it was onto the grill with a huge chunk of hickory to further cook down and get that great smokey flavor that really sets this sauce apart.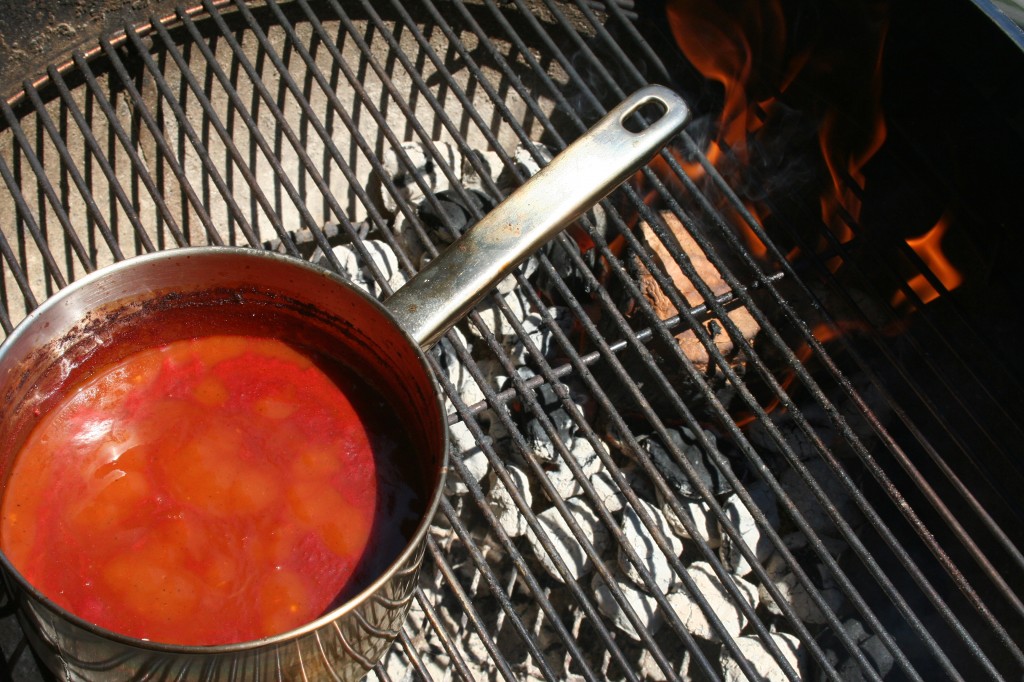 One note about the picture above, even though the chunk of hickory is engulfed in flames in the picture, it did not remain that way once the lid was in place, the rush of oxygen upon removing the lid allowed it to burst into flames.  A chunk of wood in flames like that above will not produce nearly enough adequate smoke to flavor the BBQ sauce properly.
Ingredients
1 15oz can of tomato sauce
2 c apple cider
4 cloves of garlic pressed
2 tbsp red wine vinegar
1 tbsp apple cider vinegar (white vinegar would work as well)
1/4 c brown sugar
1/2 tsp ground black pepper
1 tbsp honey
1/2 tbsp worcestershire sauce
1 tsp chile powder
1 tbsp thickener (cornstarch, flour, etc)
Instructions
Start by combining liquid ingredients in a sauce pan (one safe for the grill) on the stove over medium heat and bringing to a boil.  Stir frequently.  Once the liquid is boiling add in everything else except the thickener, stir and boil until the sauce begins to reduce slightly.  It should smell amazing at this point.  Slowly stir in thickener.  At this point prep the grill (fire up the chimney and get the smoking wood ready) and move the pan to the grill when it is ready and place it on the opposite side of the grill from the heat, add smoking wood and leave to cook uncovered.  Stir the sauce every 15-20 minutes, it should be simmering nicely.  Remove the sauce from the grill when it is thickened to the desired consistency.
It is a tangy sweet BBQ sauce and it is so tasty it has boldness and depth that I have no found in a bottled BBQ sauce and it is pretty simple to make, this is going on the list of favorites.  Before cooking the sauce I did wipe the inside of the pan down with a thin film of canola oil to make cleanup simpler, and it helped, the baked on sauce just came off under the faucet and the scrubbing was minimal.  Just be sure to use a pan you can live with being a slightly different color when you are done on the outside.