Sometimes I wonder if we take the time to consider the cost of what we are eating, I mean for a lot of people go to the grocery store, pick out their food and run.  If you do take the time to consider the cost you probably focus on getting a good deal or think that you are doing well to support the employees of the store and the people who took a part in getting the food to the store.  However there are some people who do not have any idea where their food came from or that it was once living.  Well the turkey we smoked, I know was once living, in the wild and was shot by a friend of mine during turkey season here in Michigan.
So with all that in mind, it was my goal to cook up one heck of a turkey and not let the story of this bird end with a bad plate of turkey.  With the exception of the legs it turned out great, it was unlike any turkey I have ever eaten before.  Each bite was a bit different than the last and all of them were pretty incredible.
I used the same brine as I had used when I smoked my turkey breast for our Thanksgiving potluck and brined it overnight in a 5 gallon bucket overnight in the garage, it was colder than the fridge.  We were forced to remove its legs to fit it into the brining bucket and the smoker.  This morning after a hasty breakfast of eggs, bacon and sausage we pulled the turkey out of the brine, brushed it with cajun butter and rubbed it with cajun spice.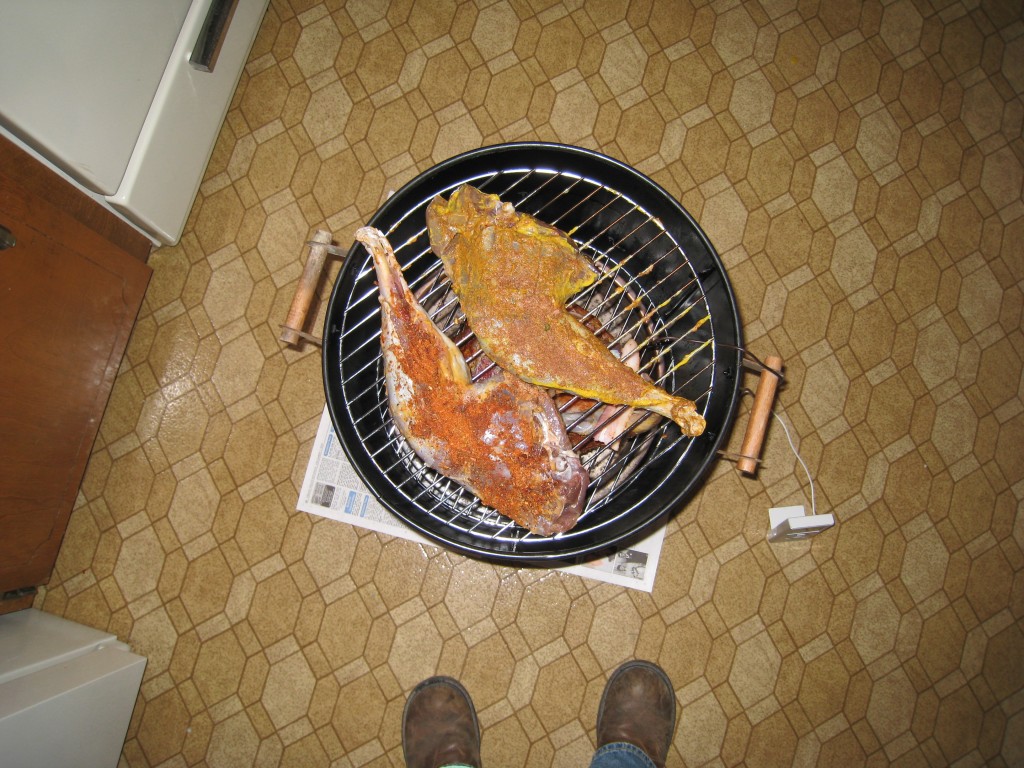 We then loaded the smoker and set it up to smoke over hickory and apple wood and smoked it for 6 hours, basting with apple juice and white wine about every half hour.  After a days work and about 30 games of Halo, the turkey was done and resting on the counter covered by a thick blanket.  After allowing the juices to redistribute, we began to carve and eat.  It was worth the effort.