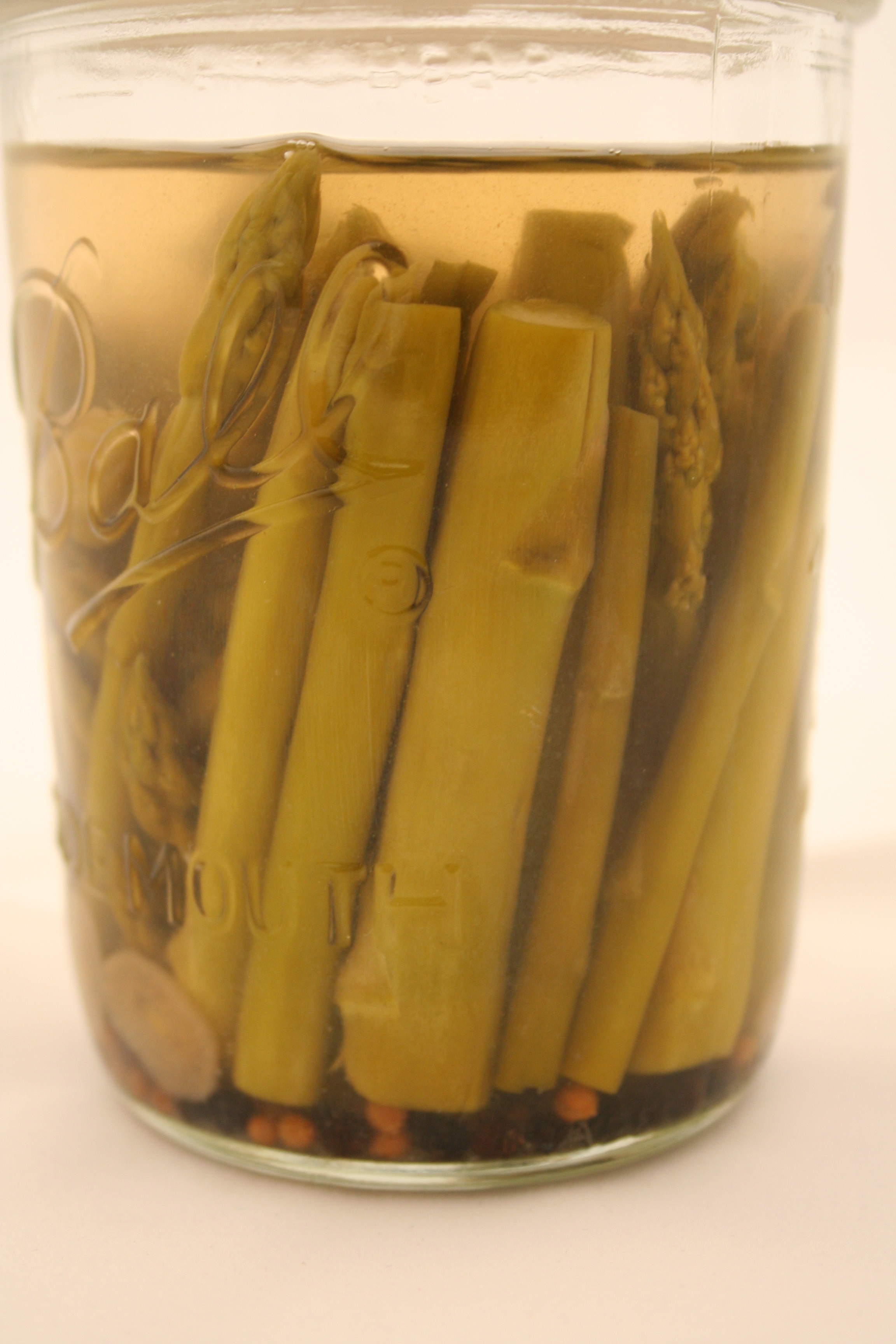 Okay.  So some things are not quite natural to me yet, like putting a bunch of stuff in a jar with no lid and letting it sit and come alive for a couple weeks, scraping the mold off the top (if it did mold, this doesn't always happen) and then you are supposed to eat it?  Well the more I do it the more familiar it becomes and it is worth overcoming the mental hurdle this stuff is tasty.
Every spring my parents have an abundance of asparagus from their small garden plot out back, an abundance might be an understatement but it is way more than they could possibly hope to eat and still like it at the end of the season.  As a result I usually end up with a bit of it myself, which is fine with me, asparagus is my friend.  This year I thought I would try something a little different.  I tried pickling some asparagus, I tried three different methods and got three different results.  You will have to check back for the other two types of pickles as I have not yet tried all three.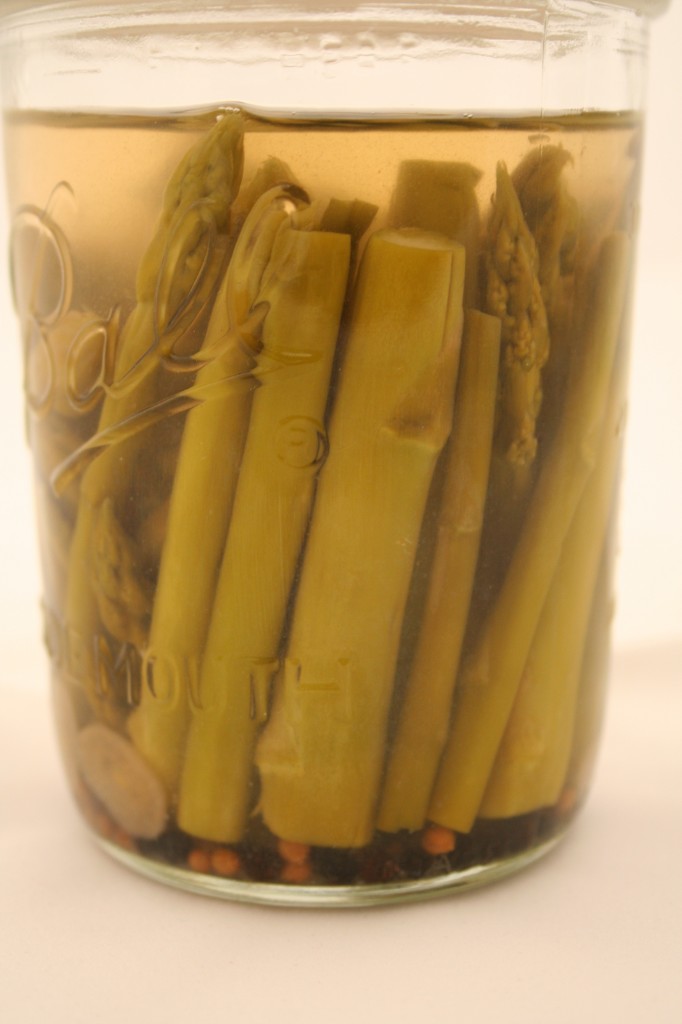 The first type of pickled asparagus that I got to try was lacto-fermented pickled asparagus.  It was perhaps the most intimidating of the three batches I did, but I had to know.  Lacto-fermentation is a natural process in which the naturally occurring lactobacilli on the surface and in the vegetables (in this case) convert the sugars and starches in the vegetables in to lactic acid.  This lactic acid inhibits putrefying bacteria and preserves the vegetables.  At first glance.  Scary.
The asparagus pickle recipe I used was adapted from a recipe found over at Awesome Pickle.  Because I was using a pint jar and had enough asparagus to fill the entire jar I adapted the recipe a bit.  I did however find the technique  they used to submerge the asparagus in the jar simple and effective.  You can view that technique at the bottom of the page linked above.
Ingredients
asparagus (enough to fill a 1 pint wide mouth jar)
2 cloves garlic
1/2 tsp coriander seeds
1/2 tsp black peppercorns
1 c water mixed with 3/4 tsp kosher salt
Instructions
Wash asparagus.  Trim asparagus to fit into a 1 pint wide mouth jar, heads down, with about an inch of head space.  Thinly slice garlic cloves and place them in the jar, add in the spices.  Pout in the water until it entirely covers all of the asparagus.  Use the method shown in the third picture here to keep the asparagus from rising up during the process.  Put the jar in a cool place dark place with a towel underneath and another towel draped over the top to keep the dust out and forget about it for a week or two.  Once its ready in a week or two remove the jar, remove any surface mold and store in the refrigerator.
I initially had hoped to try these before I headed out on vacation a week ago but for some reason they just didn't seem ready.  So instead I just took off and left them be in the basement and another week later they were ready to go.  These little guys are pretty tasty and still had a good crunch so far.  We'll see how they are by the end of the jar.  If you can get over the initial intimidation of allowing nature to run its course on a jar of veggies.  Lacto-fermentation yields a delicious product that I am told is easier for the body to digest.