As I was paging through the ads for the grocery store this week I noticed that Pomegranates were 5 for $5 so I decided, I had best find some recipes to make something with Pomegrantes.  And while scouring the web I found several recipes for pomegranate muffins some of which included ginger, digging through my cupboard I found I had some crystallized ginger tucked away and began to look the recipes and again create one uber recipes from the wealth of recipes available on the web.  And it delivered on really tasty batch of muffins.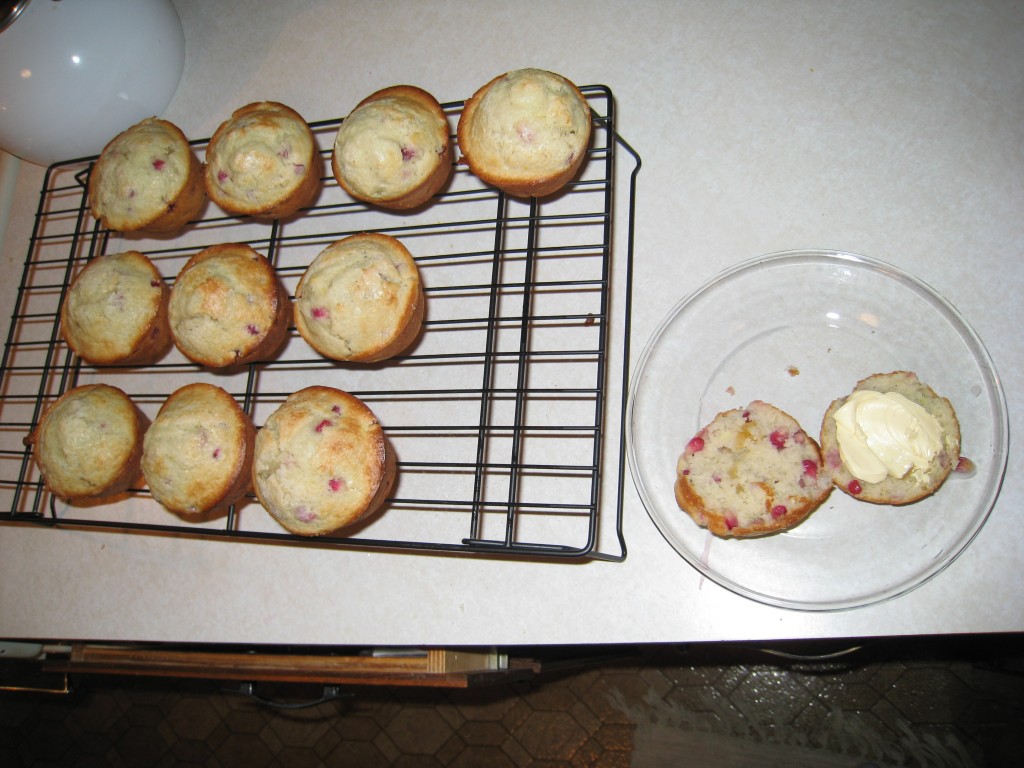 In fact these muffins were so tasty my wife was the first to try one, before I even got a chance once they had cooled down.
Here is the recipe I used to create these gems.
Ingredients
2 c flour
2/3 c sugar
1 tbsp baking powder
1 pinch salt
1/3 minced crystallized ginger
1 tsp grated lemon peel (approx)
1 c milk
1 large egg beaten
1/4 c melted butter
1 1/4 c pomegranate seeds
Instructions
Mix dry ingredients well, adding in ginger, lemon peel and pomegranate seeds
In a separate container mix wet ingredients
Combine wet ingredients with dry ingrediants until just mixed together well.
Pour into 12 greased muffin cups evenly
Bake at 425 for approximentaly 16 minutes until done.
The one complication I did have was getting the seeds from the pomegrantes, as they were unwilling to give them up without a fight.  So I ended up quartering the fruit and in a bowl of water using my hands to tear apart the husk and massage the seeds off.  It worked quite well and in the water the husk floated and the seeds sank so it was easy to seperate them.
This went well and with any luck I will be making pomegranate rice for lunch so check back later for that posting.