Love at first taste – Easy Curry Chicken
We are still on the chicken diet and instead of waiting after our workout tonight to prepare dinner I decided it would be nice to have dinner done at the same time were done working out.  So that is what we did, a little prep before and basting on water break and an easy but oh so tasty dish of Curry Chicken on rice was born.  Our workout last somewhere around an hour usually and as such we had pause for just long enough to throw the chicken in.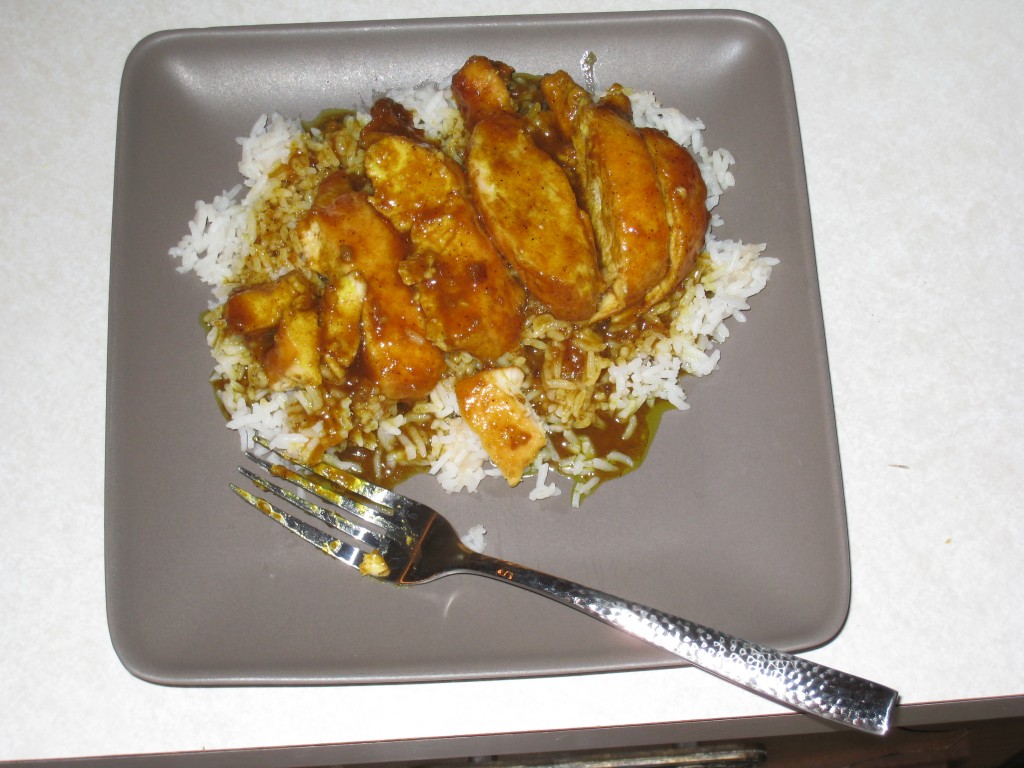 This could be love at first taste, it became apparent tonight as I ate my dinner that I have not eaten enough curry in the past and will have to include this in my diet in an increasing fashion in the future.  My curry love affair has been born.
Ingredients
2 chicken breasts
2 tbsp butter or margarine
1/3 c honey
2 tbsp dijon mustard
1 1/2 tsp curry powder
Instructions
Pre-heat oven to 375°F.  Place butter in a glass baking dish and heat until melted.  Add honey, mustard and curry powder to melted butter and mix thoroughly.   Add chicken and roll in curry mixture several times.  Cook for 50 minute basting frequently.  Serve over hot rice and smother with curry mixture left over in the baking dish.
I used a cheap curry I had purchased at the grocery store and will be looking next time I am at the spice shop at the variety of curries they have available.  Also of note I made the rice as usual in my rice cooker and allowed it to warm once it was complete.
This might not be as low fat as other chicken dishes but at about 350 calories a serving (did a little math) I'll take it, its good enough for me, besides what is the point of working out if you can't eat more?