In addition to the left over black beans that we made soup with yesterday, we also had some left over garbanzo beans from our chicken enchiladas.  We had decided to make some hummus with them.  As opposed to going to the store to get some pitas to enjoy our hummus with I decided to try my hand a pita making this afternoon, and the result was worth all the effort.  I made a sweeter pita bread similar to that used at Olga's kitchen, in fact it could give Olga's a run for its money.  Even though pita making is rather labor intensive, make the dough, let rise and then cook individually; the results are worth the effort.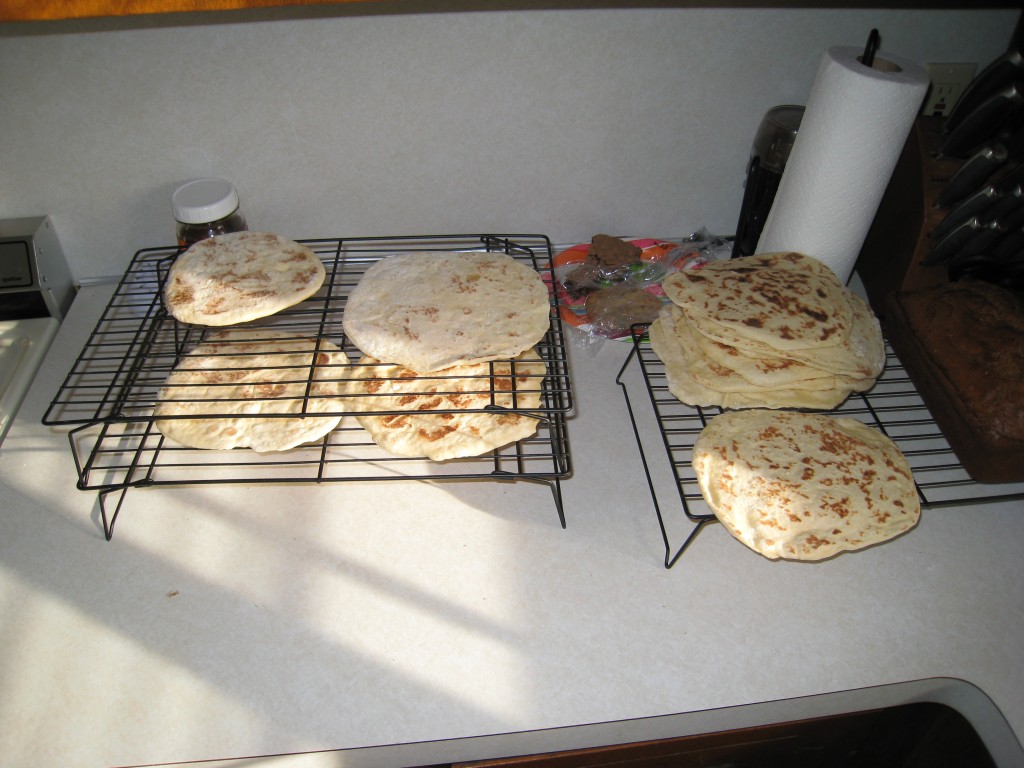 The recipe I used to create this tasty masterpiece is as follows:
Ingredients
1 c hot milk (185°F)
1/4 c warm water (110°F)
1/4 c honey
1 egg
4 c flour
1 tsp salt
2 tsp dry active yeast
1/4 c margarine (room temperature)
1 tsp sugar
Instructions
Place warmed milk, margarine, honey and salt in a large bowl, stir until margarine is melted, let cool.
Meanwhile, in a small bowl combine sugar, yeast and warm water, let sit.
Once margarine/milk/honey mixture has cooled to at least (110°F), add 1 1/2 cups flour and eggs.  Mix well.
Add yeast mixture and remaining flour 1/2 cup at a time, mix thoroughly.  Dough should be sticky.
Knead dough on a flour board, until it well resembles dough.
Place dough in a large bowl, oil top of dough with olive oil, cover and let rise until doubled in size. Punch down.
Break dough into 16 equal balls, and roll out to 1/8″ thick rounds.
Cook rounds individually in a large hot skillet over medium high heat for 15 second, flip cooking for 15 more seconds.
Eat immediately or cool on cooling racks and place in an airtight container in the fridge.  Heat for a few minute on cookie sheet in oven when ready to eat.
Not only were the pitas good the hummus on them we tasty as well.