Making chili is an art, not like all out on your own art but like sewing, where you have a pattern to follow but every time something is a little different.  Cooking in general is like this but chili is a special breed of cooking, it can change quite a bit from time to time.  This time was no exception.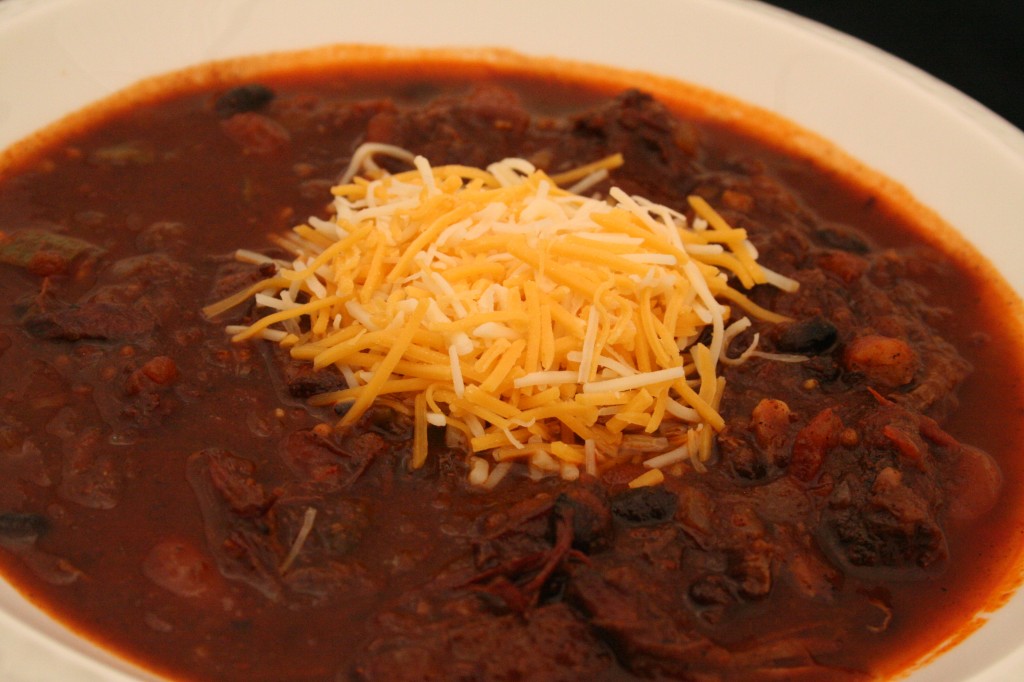 This was what I would refer as chili its not fancy other than what you put into it but it is full of flavor and spice, not the kind of spice that burns your tongue off and renders you ability to taste broken.  The kind of spice that is pleasant while you are eating it and reminds you when you are done that it was in fact a good spicy bowl of chili, that is the kind of spice I like with my chili.
What made the chili so special this time was the ingredients, mostly the meat if you remember in my last post I smoked a chuck roast in a chili rub just for this pot of chili.  Also what made this pot of chili quite unique was that I was here the entire time I made it, tending to it on the stove.  Usually I cook the meat if it needs to be cooked, drain off the grease and throw everything together in the crock pot and let it go.  But this time I did it in a pot on the stove, a bit more tending but it was much more rewarding and I got to throw in ingredients in phases, for instance I put in some garlic at the start then a little more about an hour before it came off the stove…gives it a bit more of a garlic taste.
So without further ado,  here is the skeleton recipe.  Like I said chili is an art and I use these more like guidelines than an actual recipe.
Ingredients
1 lb meat (beef+bacon, beef+pork, beef+sausage, etc) shredded, cubed or ground
1 medium onion chopped
2 jalapenos seeded and chopped
1 dried jalapeno
1/3 c dried kidney beans
1/3 c dried black beans
3-7 cloves of garlic, peeled smashed and chopped
1 pt chili sauce (we have a home canned variety)
1 can crushed tomatoes
1/3 c brown sugar
1/3 c chili powder
3/4 tsp cumin
1/2 tsp cayenne
3/4 tsp garlic powder
1/2 tsp kosher salt
1 tsp oregano
1 c beef broth
water
Instructions
Once meat is cooked and (if preferred) fat is drained off. Combine all ingredients in a pot add water until liquid covers all ingredients.  It cooking in a crock pot at 1 cup more water and set it on auto or high for 1 hour then down to low for at least 4 hours.  If doing it on the stove (bonus points) or in a dutch oven (double bonus points), bring to a boil then reduce heat and cook at a low simmer for 3-4 hours.  If cooking on the stove stir occasionally and check for flavor, add anything else you feel it requires and also add water if it seems to be getting to thick.  The dry beans will soak up a lot of moisture (and flavor).
So in addition to having the smoked chuck roast as my meat in my chili it was joined by some whole jalapenos I had smoked and dried during the summer.  Chili is a great dish to get creative with, I enjoy trying new things with my chili and changing it up a little every time.  Chili is a very test and tune dish.