Well the day finally came, the ribs were rubbed last night and it was cooking time today.   Because I am either proud or crazy or both, I opted not to borrow either of the smokers available to me and smoked (cooked) these ribs on my Weber Charcoal grill.  This was quite a task.  It was rather windy here and I had no idea holding a temperature at 230°F would be such a chore, but hey they are cooked and they were tasty.  But the real question which of the two rubs won? And why is there a piece of chicken in the picture?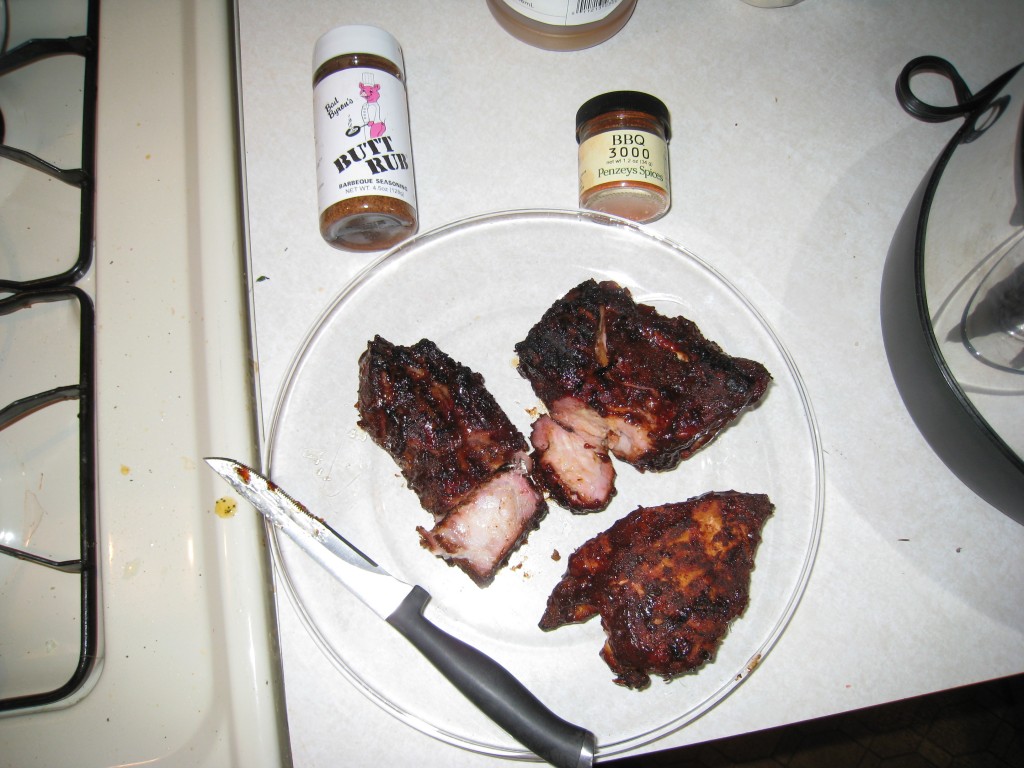 Well let me answer the chicken question first.  I wanted to see how a BBQ rub stacked up on chicken and I must say quite well it was delicious and like the ribs surprisingly juicy after such a long cooking time.  So which rub won?  Well I will be using them both again but for different reasons.  The Butt Rub was in my opinion the best tasting rub, it was spicy and seemed to absorb the smoke ALOT better than the BBQ 3000, it also colored nicely.  The BBQ 3000 on the other hand was delicious, it also colored nicely, however it did not seem to absorb the smoke nearly as well.  It did however has an incredible sweet taste that almost made up for the lack of spice.
Like I said I will keep both of these rubs in my cupboard and use them both in the future, however, I will be looking forward to using the Butt Rub a wee bit more than the BBQ 3000.