In spite of the ridiculously warm hunts the deer have been on their feet this year and I am grateful to have taken a couple.  The farm I have been hunting has a deer problem, it is not uncommon to see twenty or more deer a sit, which makes every sit exciting.  Ten days ago I had what appeared to be a wounded deer come in that was obviously in rough shape and so I took the shot and killed it instantly, if you don't believe me I will send you a picture of the shot.  Regardless upon butchering I discovered that the reason it appeared to be injured is that it was injured, one front shoulder was completely dislocated and the other a bruised ball of mess.  Fear not the chickens loved those two shoulders.  I butchered the rest of the deer you would as any other and set aside two roasts to make…pastrami.  I love pastrami, I love corned beef/venison as well but have a special place in my heart for pastrami.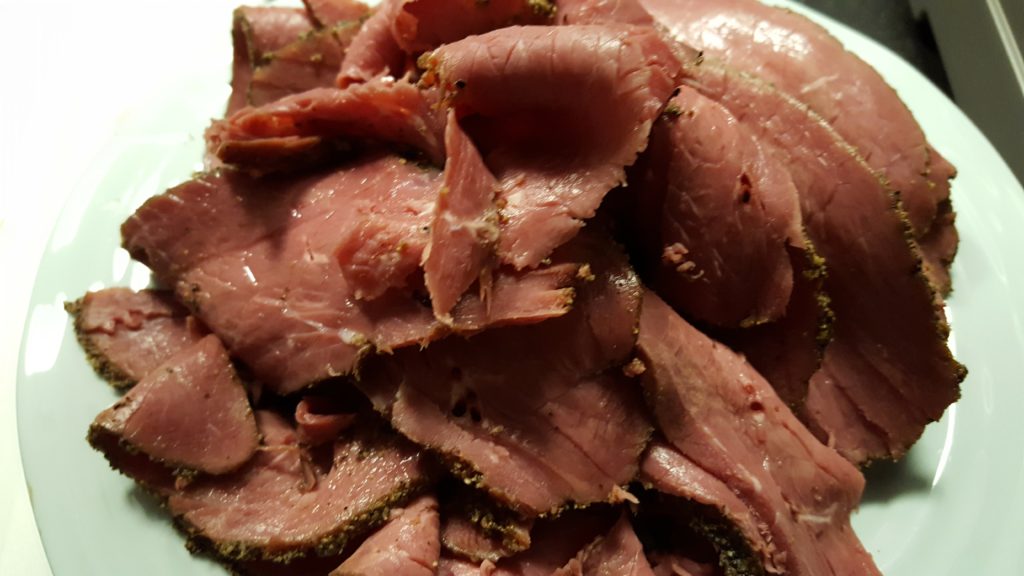 I have made pastrami in the passed and it was always just not quite right, either dry or funky or something, well this time I nailed it.  It is fantastic, had some last night on pumpernickel with horseradish cheddar and mayo, might have another for lunch.
As with other cured meats the process is as important as the ingredients and in this case more so for flavor, with here is what I ended up with.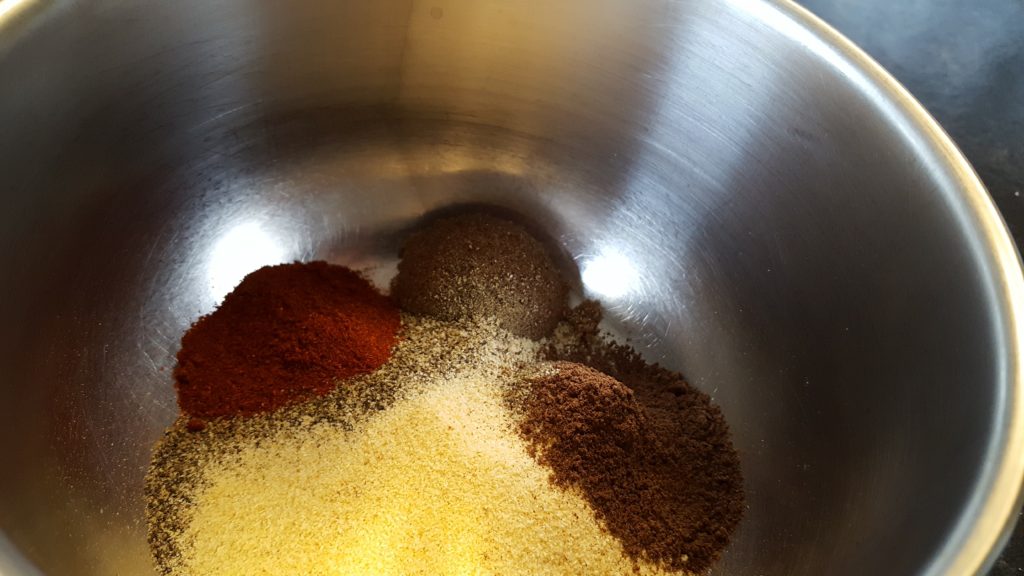 Ingredients (cure)
3-5 pounds venison
1/4 c tender quick (do not skip, this is the cure part)
2 tbsp dark brown sugar
1 tbsp ground black pepper
1 tbsp onion powder
1 tbsp garlic powder
1 tsp paprika
1 tsp ground cloves
1/4 tsp ground mustard
coupe bay leaves crumbled
Ingredients (rub)
3 tbsp ground black pepper
1 tsp ground coriander
1 tsp garlic powder
Instructions
Trim, wash and dry meat.  Set aside.
Combine cure ingredients thoroughly and rub liberally all over meat.
Place meat in a gallon zip lock bag or better yet vacuum seal it and place it in the fridge for at least five days, depending on meat thickness.  I went seven for this batch and it was perfect.  Turn the bag/pouch everyday.
After the meat has cured – remove it from the bag, rinse and place the meat in a bowl of clean water to soak.  It should soak for at least a couple hours bur preferably over night or better yet while you are at the office.
After soaking, remove meat from the water, rinse again.  Pat dry.
Combine ingredients for rub, rub liberally all over the meat.  Allow meat to sit out.
Preheat smoker to 225°F, add wood for smoker once preheated (I used a chunk of oak and a chunk of hickory)
Once the smoker has been preheated, place the meat on the smoker and smoke until the center of the meat is 150°F
Once the meat is up to 150°F in the center, remove from the smoker, wrap tightly in foil with a splash of water, beer, stock, etc.  Wrap this foil packet in a towel or two and let it sit on the counter for a half hour, this is super important to having an awesome end product.
After a half an hour slice and enjoy.  It will be better the next day.
And that is it, pastrami, at home with an animal hopefully sourced by yourself, that is knowing where your food comes from.  And if anyone knows where I can find a wild pig running around in Michigan I can know where my bacon comes from too.
What is your favorite way to enjoy venison?