Goodbye 2015, Hello 2016
Let's pretend that blogging has a fiscal year that floats from the calendar year, that will make me feel better about this post.  I was looking back at 2015 and realized that I manged three shameful posts the whole year, I apologize.  In my mind I am much more active in the blogging space, telling you all about the changes that are happening around here, what we are eating and how we making it.  But reality is I suck at this whole blogging bit lately.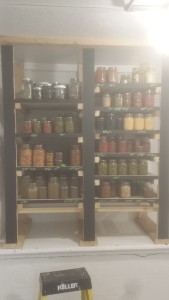 So let me give you a little catch up, the blog has been devoid of tasty recipes as of late – with good reason we have been eating lots of the same things, lot's of venison and vegetables from our garden.  This past year we canned up a lot of food from our garden in all sorts of fun arrangements, we are eating it this winter and hopefully I will tell you about some of those, but in the mean time here is a picture of our canned stash – it is not amazing, but it is sustaining us through the winter.
Since this blog started off as a cooking blog I suppose its only fair to issue a warning, this will probably become more of a generic farmstead type blog in the future.  We still like to eat and cook – but we are much closer to our food now that we are out in the sticks.
Our chickens are doing their job too, giving us eggs and lots of manure, their coop after some finagling, is finally working out better than we could have hoped.  It is still stationary for the moment, but we are hoping to get it mobile here just in time for spring.  The wheels are sitting in the kitchen – just showed up yesterday.
In addition to updates to the chicken coop we will be adding more fruit this year – we have a couple more fruit trees on the way and have purchased blackberries, blueberries and strawberries to plant this spring.  We will be doing a bit of work to create a suitable planting area for them as we live on the worst drained hillside known to mankind.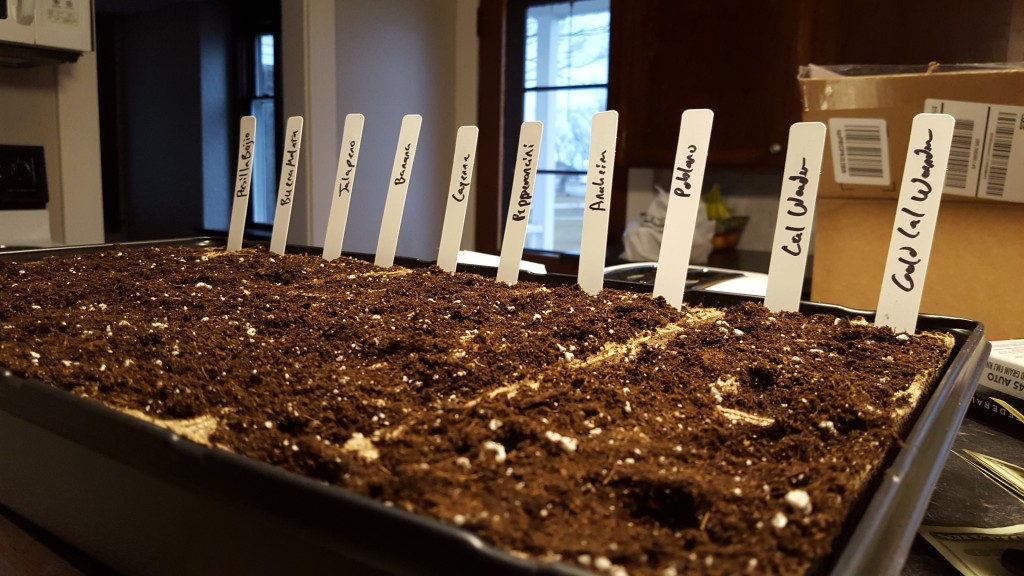 I have started to plant seeds in our grow box in the basement and thus far have twelve varieties of peppers planted, artichokes, rosemary and sage.  In a couple of weeks we will start our tomatoes and a couple weeks after that our melons.  I am hoping to get a cold frame in, in our root vegetable garden plot to get some onions started in the ground.  And I am excited to try some garlic scapes when the garlic I planted last fall pops up this spring.
And like that we are off, I promise this year I will do better, if nothing else come and tag along on Instagram