Mmmm….Sage and Rosemary Pork loin
Thanks to a gifted pork loin, I had to find something tasty to make of it and I did!  Let such a beautiful piece of meat suffer in the bowels of tastelessness was not an option for me, and so I set out to the interweb to find the most delicious sounding recipe for this particular cut of meat I could find and I found many, but I finally settled on a recipe from Good Housekeeping entitled Sage and Rosemary Pork.  Now the recipe calls for a substantial amount of fresh herbs which thankfully where all available on my patio herb garden, making this an easy and thrifty choice of meat.  I prepared the meat just as the recipe called for except I 'stuffed' it the night before and kept it in the fridge, upon arriving home this evening, I placed it in the oven and prepared the rest of the meal fried asparagus (just add a little olive oil, garlic powder and seasoning salt to taste and fry until bright green) and chipotle garlic mashed red skin potatoes.  This was a culinary delight, no doubt I will have wicked breath for the remainder of the evening but the infusion of flavor from the stuff pork combined with the asparagus and potatoes was incredible.  The pork was well flavored using this method and moist.  If you are looking for a simple recipe for pork loin, I would suggest this.  Be sure to check back, as I am finding so many amazing sounding recipes I will be sure to cook up more pork in the future.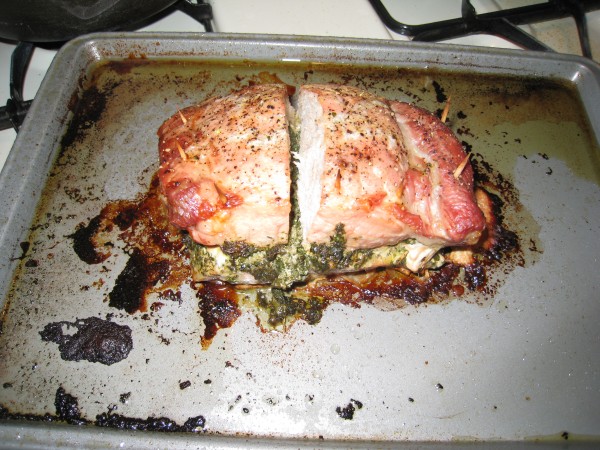 Remember its all about cookin' with what you got.