Pineapple Glazed Chicken with Grilled Pineapple
For some reason on the way home from work today I had an urge for some pineapple glazed grilled chicken, which was strange because I have never had pineapple glazed grilled chicken in my life.   Now I have had grilled pineapple, which I like and grilled chicken, which without variety is boring.  So I gave it a whirl and came out on the other side with a sweet, tasty and relatively quick recipe, I am going to be holding onto.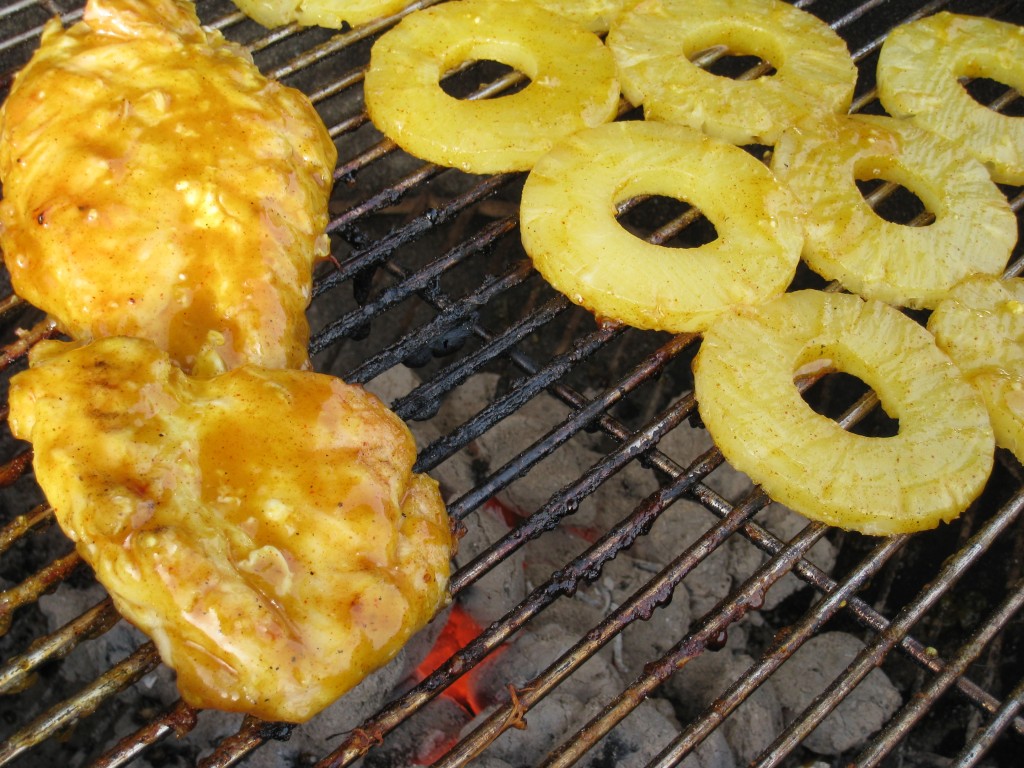 Ingredients
2 chicken breasts
1 can of pineapple slices
2 tbsp dijon mustard
1/2 tsp ground dried ginger
1 tsp curry powder
1/4 tsp cayenne
2 tbsp honey
1 tbsp brown sugar
1-2 tbsp corn starch
Instructions
Start by draining pineapple and reserving juice.  Combine juice, mustard, ginger, curry powder, cayenne, honey and brown sugar in a small pot and heat over medium to a boil, stirring constantly.  Slowly add in cornstarch until it thickens to a maple syrup consistency.  Remove from heat and set aside.  Get the grill ready, when it is at a medium/medium high temperature lube the grate with vegetable oil and start grilling the chicken.  When the chicken is about 5 minutes from done (use your own judgment), add pineapple to grill and brush with glaze.  Then brush chicken with a generous amount of glaze on both sides.  Flip pineapple and brush the other side with glaze.  Use the remaining glaze on the chicken remove both chicken and pineapple when done.  Eat chicken piled high with pineapple.
I ate mine with a healthy portion of spinach salad with mandarin oranges, grilled pineapple, bacon and raspberry vinaigrette.