Well tonight was an experiment. Can we make chicken enchiladas, that are healthier and taste good? Well we gave it a try and here is what came out of it.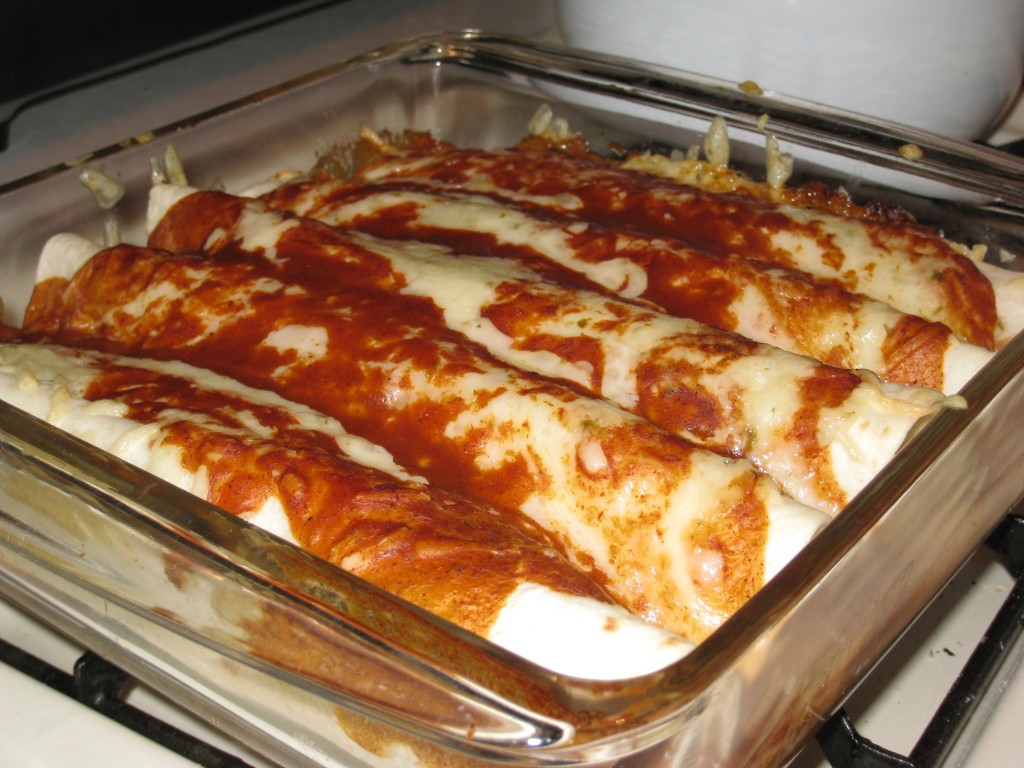 What we pulled from the oven exceeded my expectations, it was tasty, a little bit spicy and tasted like an enchilada.  We topped ours with sour cream and vowed that next time we would make fewer, plumper enchiladas.
The recipe we used was as follows:
Ingredients:
2 tsp canola oil
2-3 chicken breasts (about a half pound), cubed
1 bell pepper, seeded and chopped
1 small onion finely chopped
1 jalapeno finely chopped
1 tsp chili powder
1/2 tsp ground cumin
1 can stewed tomatoes
3/4 c canned black beans, drained and rinsed
3/4 c canned chick peas, drained and rinsed
black pepper to taste
8oz shredded Pepper Jack Cheese (could substitute with Monterey Jack)
1 bottle enchilada sauce
8 8″ flour tortillas
Instructions
Preheat oven to 350°F.  Spray a 9″x13″ glass pan with non stick cooking spray.
Heat oil in a skillet, add in green pepper, jalapeno, onion and chicken, cook until chicken is cooked through.
Add in chili powder and cumin, cook, stirring for about a minute.
Add in the tomatoes, beans, chickpeas and pepper, stir and simmer for about 5 minutes until juice is reduced.
Fill each tortilla with chicken mixture and roll.  Place seam side down in glass pan, cover with cheese and enchilada sauce.
Back for 30-35 minutes until cheese is melted and enchilda is heated through.
Let stand for 10 minutes before eating.