I have found the the best time to sit down and write a recipe review is while stuffing my face the result of that recipe.  And tonight is a prime instance of this, all that is missing from this late afternoon dessert is a bit of coffee.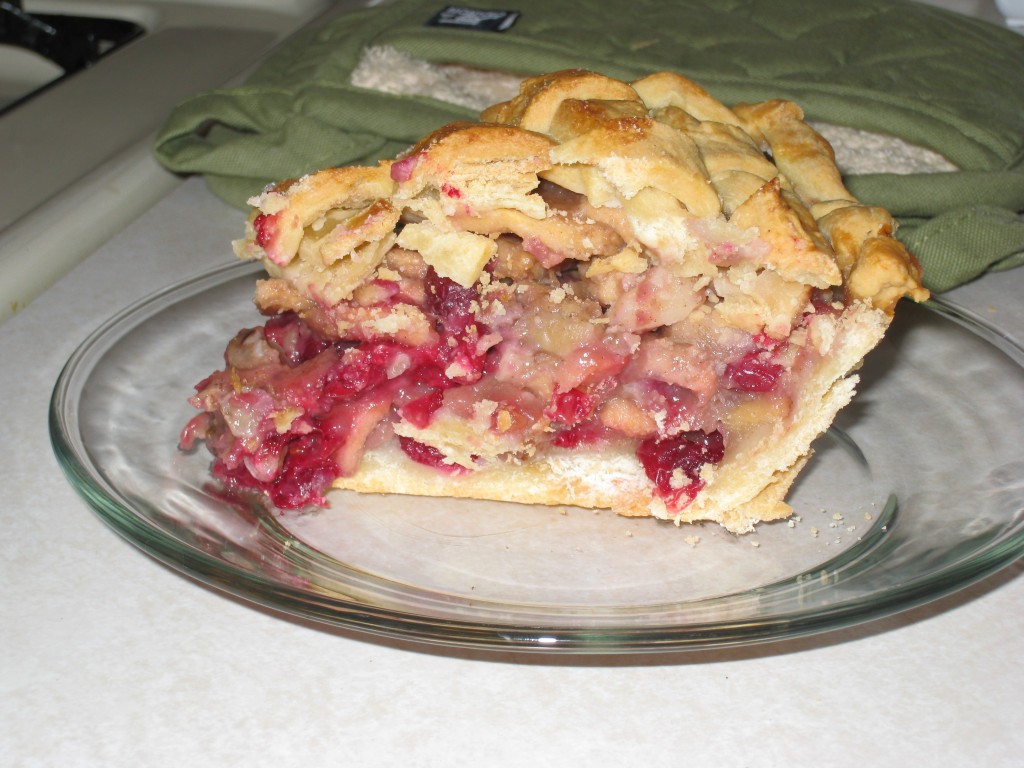 But let me back up, yesterday was well sort of a first for me.  I had never prior to yesterday made a real pie start to finish, sure I made Key Lime pie which is a chore but just used crumbled up cracker, sugar and margarine for a crust.  So yesterday the journey began using a set of recipes I had found in Midwest Living some time ago.  (By the way thank you to the previous renters at my address for not forwarding your mail, I hope all that stuff marked urgent and last notice wasn't important, I digress.)  One was for the pie itself and another for the crust, which is certainly not a Weight Watches approved crust.
Double Pie Crust Recipe
Ingredients:
3 1/2 c flour
1 1/2 tsp salt
3/4 c cold margarine (butter) cut into pieces
1/4 c butter flavored shortening
7 tbsp cold water
1 egg beaten
2 tsp lemon juice
Instructions
Mix flour and salt.  Add in margarine and shortening until pea sizes pieces form.
Mix remaining ingredients in separate bowl. Combine all ingredients tell wet throughout.
Turn out onto lightly floured surface and work into a ball with hands.  Divide in half and roll out one at a time into pie crusts.
Bake as directed in pie recipe.
Apple-Cranberry-Walnut Pie
Ingredients
1 c cane sugar
1/3 c flour
1/2 tsp ground cinnamon
2 lbs tart cooking apples, peeled cored and sliced (I used my Apple Peeler-Corer-Slicer to make the job easier)
2 c cranberries (fresh)
1/2 c chopped walnuts
2 tbsp margarine (butter)
milk, sprinkle of sugar
Instructions
In a small bowl mix flour, sugar, cinnamon.  In a large  bowl mix fruit an walnuts.  Sprinkle sugar mixture over fruit tossing to combine.
Roll out first pie crust and place in pie plate, add in filling mixture and distribute evenly.
Roll out remaining pie crust and either just cover and cut a slit in to allow steam to escape of do as I did and give it a nice weave, which makes it look all the more tasty.
Brush top crust with milk, sprinkle with sugar and place in the over for 90 minutes (give or take) at 325ºF.  Remove when crust is lightly browned and fruit is tender.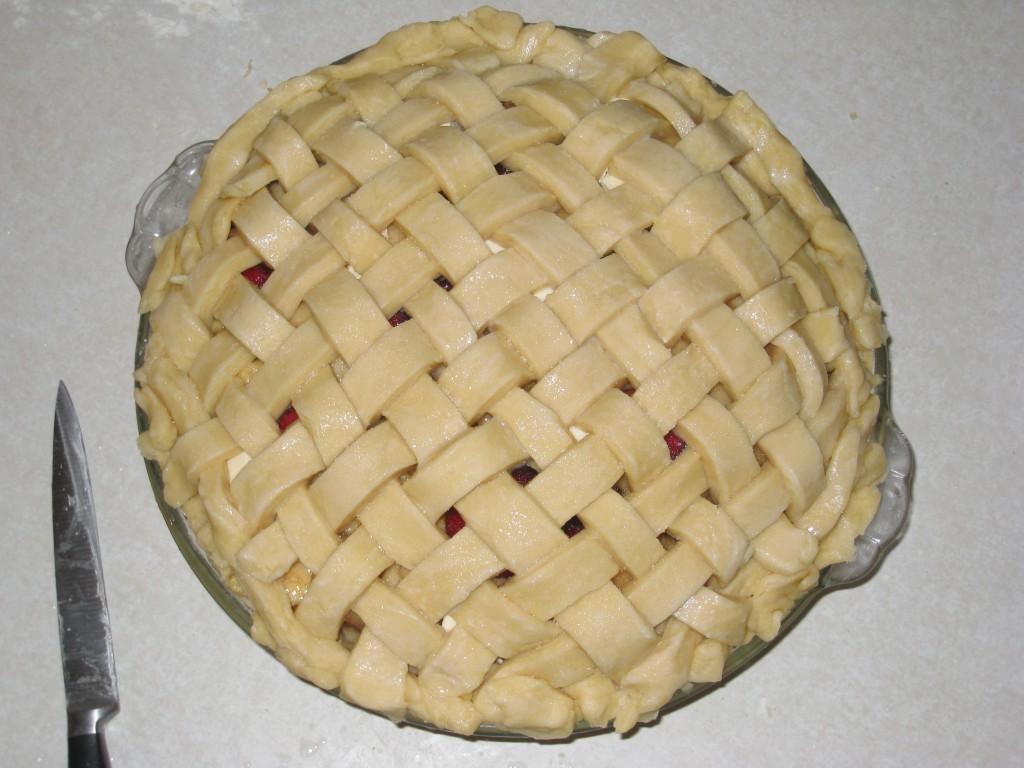 You'll notice the weave which was tricky but looked outstanding when it came out.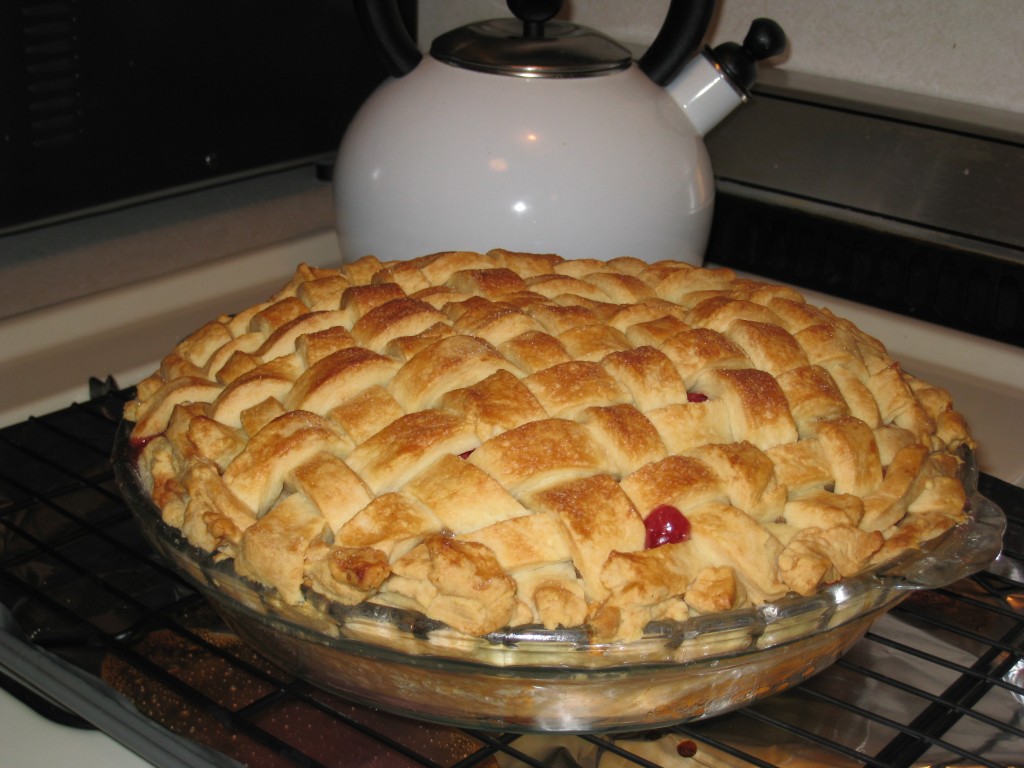 I am not gonna lie that is one fine looking pie for a rookie and while it was not the best pie I have ever had it was way better than most.  The tartness of the apples and the cranberries make this pie quite unique and the crust was pretty good as well.