When I was getting ready to move into my own place I decided I might need to have a desk.  After some extensive looking for a desk that would suit my needs and my computing style I decided one such desk did not exist, so what was I to do but build my own.
That is when I went to the drawing board and designed what I thought would be the perfect desk.  I did not have any idea how much work it would be.  Cutting, welding, grinding and painting the frame.  Plaining, joining, sanding, sanding, sanding and tung oiling the top.  Then putting it all together.  Now this desk is no push over assembled I dare say it weighs just shy of 300 pounds, its a beast, would probably be safe to hunker under it in the event of a tornado.
Now here is what it took:
90′ – 1″ x 1″ 1/8″ wall square tube steel
4 – 2″ x 12″ x 11′ Black Ash (rough sawn, thank Lonn)
A ton of biscuits for the joint
1 bottle Titebond wood glue
1 can Tung oil varnish
12 – 1″ right angle brackets
24 – self tapping sheet metal screws
24 – wood screws
Alot of elbow grease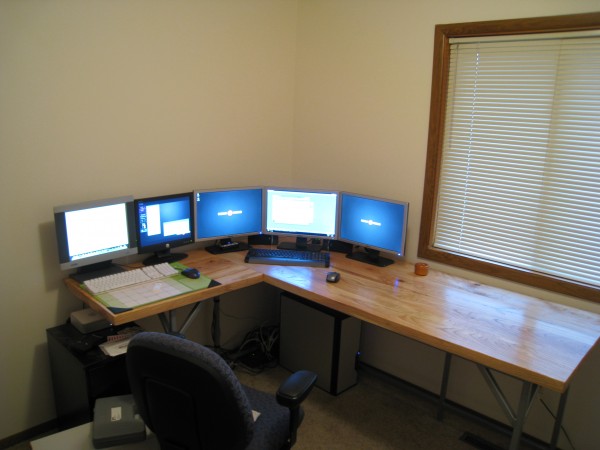 It was alot of work, alot more than I had expected but it was worth it.